The National Electronic Sports Tournament begins tomorrow with eight Chinese teams competing for a prize pool of ¥370,000 CNY, which roughly translates to $60,000 USD. An all chinese affair event should be a fresh breath of air after a string of international tournaments, a lot of which have experienced issues of scheduling, management and teams backing out.
Prize Pool Distribution:
1st: $32,591
2nd: $11,406
3rd/4th: $4,888
5th-8th: $1,629
While most of the strong and popular Chinese teams are part of the main event, notable teams like Invictus Gaming, CDEC Gaming and LAI Gaming are missing from the list. Invictus Gaming was eliminated in the qualifiers itself by Wings Gaming. While LAI Gaming was eliminated by CDEC, who went on to win that qualifier but finally decided not to take part in the tournament and in their stead SuperPlayer was invited. The following are the teams participating in the final event.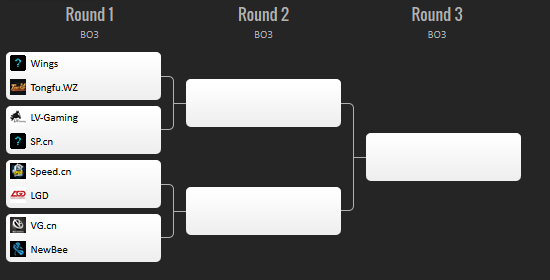 The tournament promises to be a short affair with the main event lasting for just four days. The format is structured in a single elimination format with all matches, including the finals, being Best-of-3's. The finals are expected to be held on the 2nd of November. The matches begin tomorrow with Wings Gaming taking on TongFu.WZ followed LV Gaming going up against SuperPlayer. The key match of the tournament should be on the 31st when Newbee and VG, arguably the strongest Chinese teams in the current scenario, fight each other to move ahead in the tournament.
The english streaming of the matches will be covered by HighGroundTV.