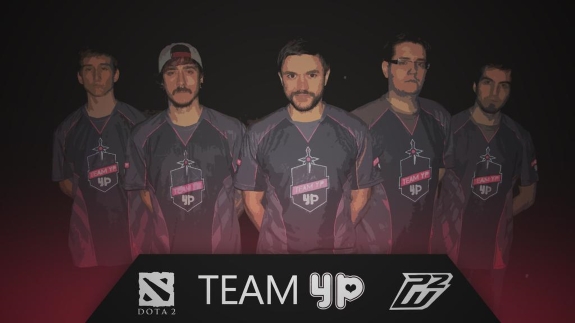 eSports fans rejoice, Team YP is here!
It's been a long time coming, but we're very excited to announce YouPorn has officially thrown it's hat into the competitive esports arena with it's sponsorship of the newly formed, Spain-based DOTA2 team, Play2Win (@PlayToWinClub). The Team YP boys will be throwing down the gauntlet and making their official debut this Friday at the Gamergy DOTA2 Tournament in Madrid, Spain. Don't miss it!
Team YP DOTA2 Roster:
Ragabash (Twitter)
LoLQoP (Twitter)
SolmyR (Twitter)
Lawliet_91 (Twitter)
Mengue (Twitter)
The official sponsorship announcement follows:
YouPorn Sponsored eSports Team, Play2Win to Debut as Team YP at Madrid Gamergy Competition
Adult Entertainment Site Finalizes Sponsorship with Spain-based DOTA 2 Veterans
New York, NY (December 3, 2014) – YouPorn, the premier source for free online adult entertainment, today announces the finalization of their long-awaited eSports sponsorship deal with Play2Win, a team of competitive online gamers hailing out of Spain. Coinciding with the new 6 month agreement, Play2Win will officially debut under their new moniker, Team YP, in time for the start of the Gamergy competition in Madrid on December 5, 2014.
Composed of individual veterans in the eSports realm, the newly unveiled Team YP will collectively pool their talents for this week's Gamergy contest. Competing for the crown in the ever popular Warcraft III mod, Defense of the Ancients (DOTA) 2, the team will look to snag the championship from a number of other competitors in their quest for dominance.
"We're so psyched to finally make our official entry into gaming and eSports," says Brad Burns, Vice President, YouPorn. "This partnership has been a long time coming, and I believe that with our backing, along with the expertise that each member of Team YP brings to the table on the virtual battlefield, we can succeed in tearing through the competition at this year's Gamergy event."
To learn more about Team YP (formerly Play2Win), please visit the team's website at www.p2wclub.com.
Finally, for more info about the upcoming proceedings at this week's Gamergy event, feel free to make your way over to http://www.gamergy.es/.
Source: blog.youporn.com