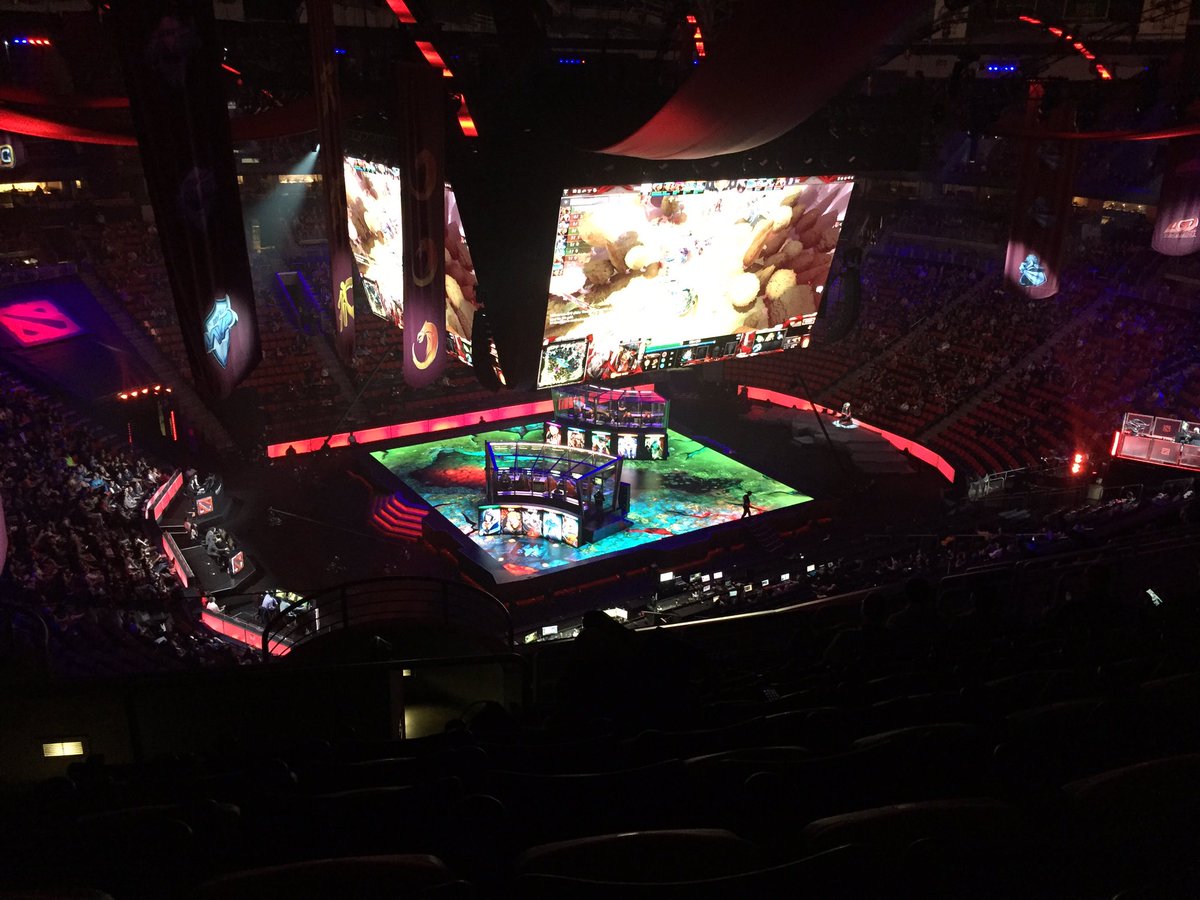 The International 2016, DOTA 2
As the entire world crowds around their televisions to watch the world's greatest athletes compete in the 2016 Rio Olympics, one untraditional, but rapidly growing gaming industry is excluded—eSports.
Thankfully however, millions of eSports fans can watch streams of The International 6 DOTA 2 tournament, which began on August 8 and runs until August 13. Other fans got tickets for the event itself, buying flights to Seattle so they can watch the players battle it out for the 20 million dollar prize pool—the biggest in eSports ever—right in front of them.
The DOTA 2 tournament comes hot on the heels of the ESL CS:GO tournament which took place in early July in Cologne, Germany. The tournament also attracted millions of viewers with its high stakes one million dollar prize pool.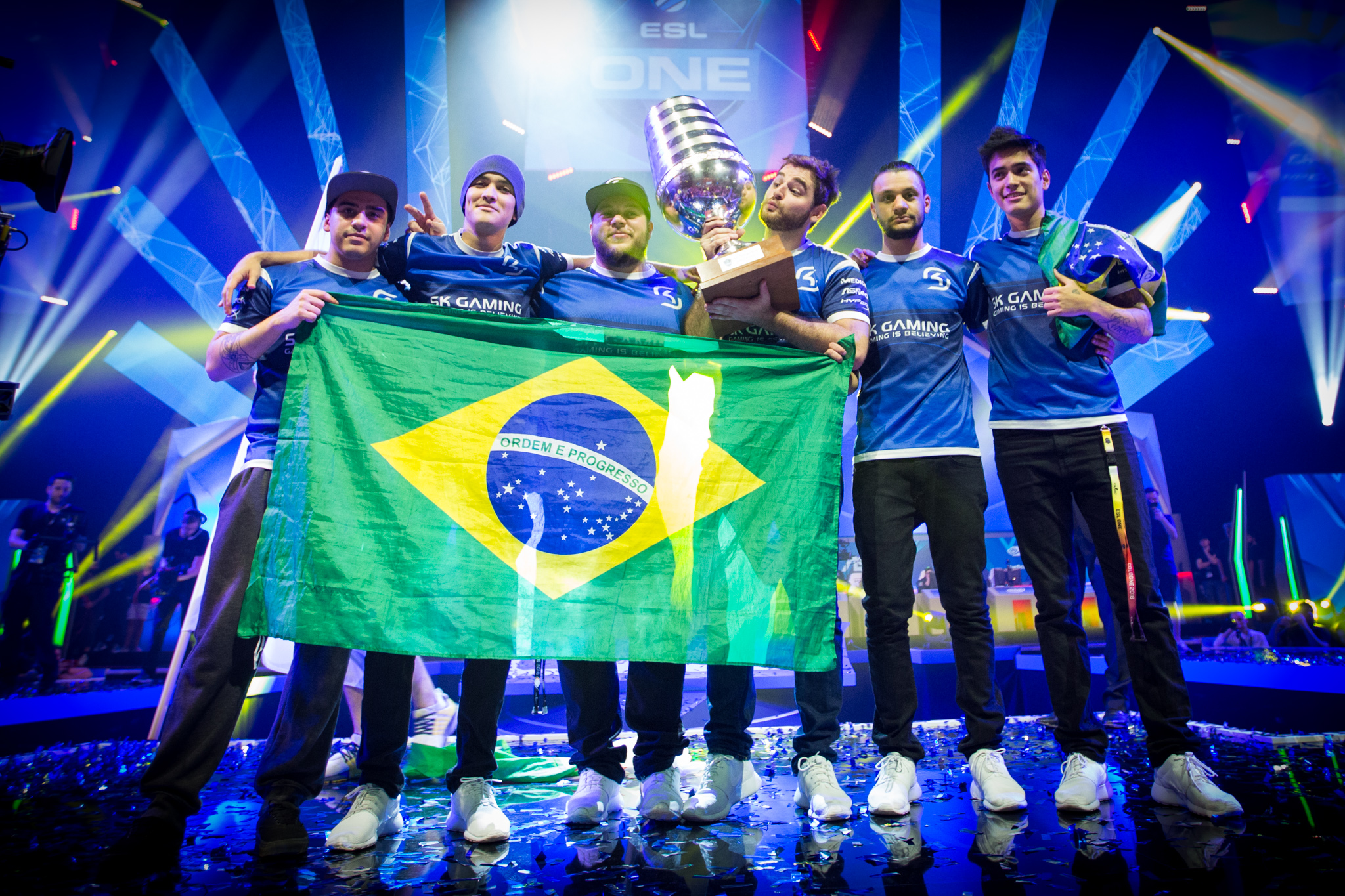 ESL One Cologne, Counter-Strike:GO
eSports market overview
According to Deloitte Global, eSports expects to see a 25 percent increase in revenue in 2016 which is far more than most mature sports such as the NBA or NHL. In fact, major eSports events can attract over 40,000 live spectators and tens of millions of web-viewers, which would make it larger than an NBA game. However, eSports lacks the volume of major events in comparison to the NBA, predicted to bring in a total revenue of $500 million in the US versus the NBA's 2014 total of 5 billion.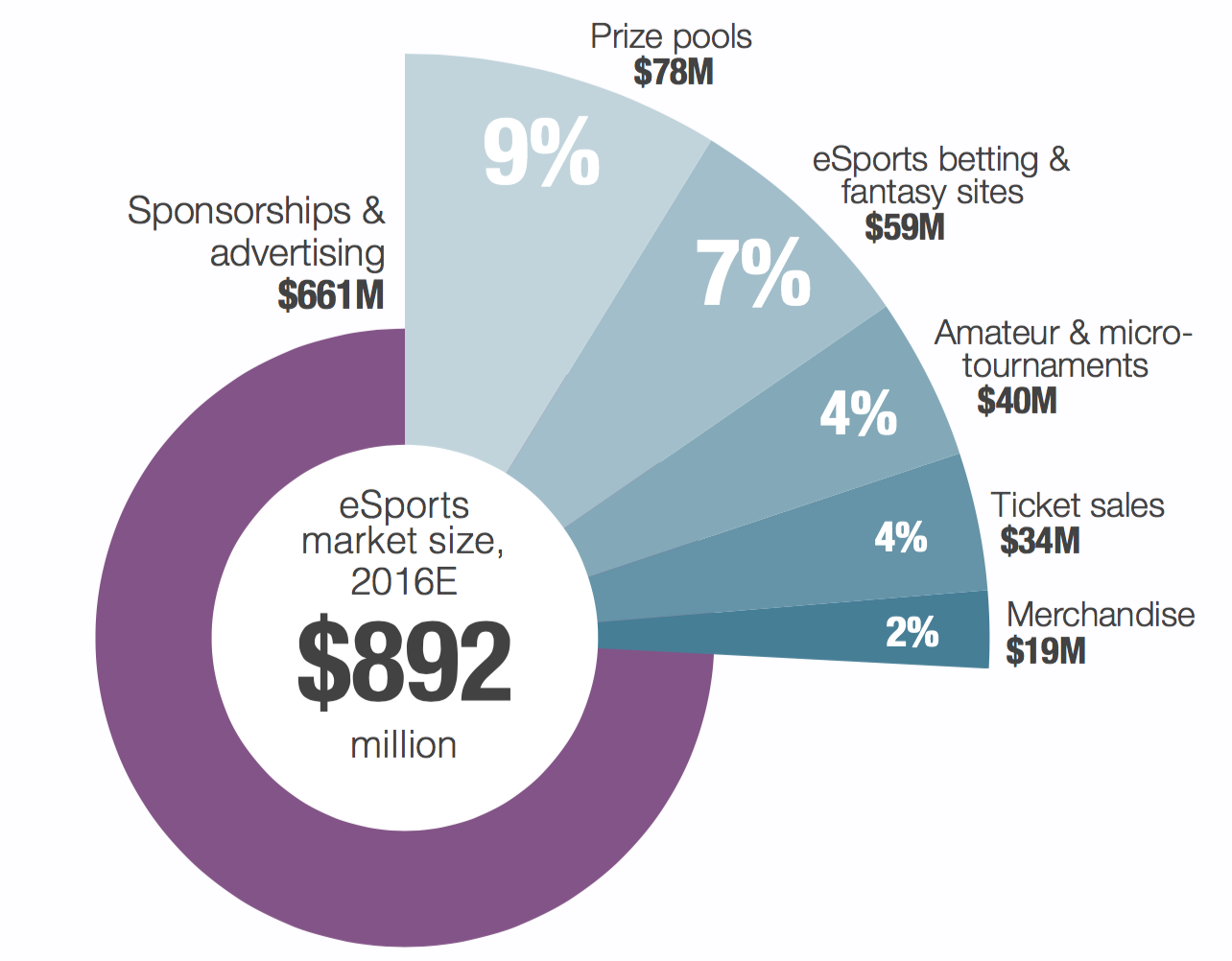 Other sources tell us that eSports market this year will reach $892 million and will grow to $2 billion in 2020. This discrepancy in predictions is a tribute to the youth of the industry, while still reinforcing eSport's obvious rapid growth as a legitimate market.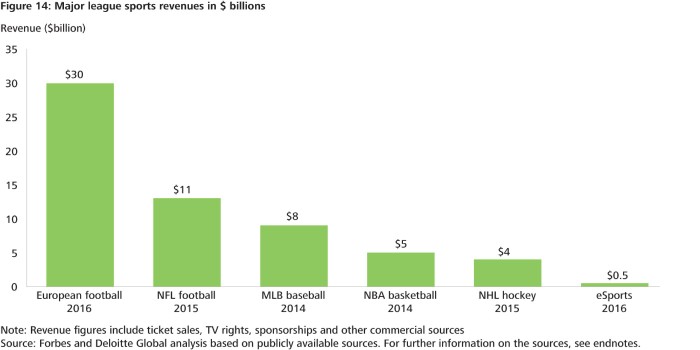 According to Newzoo Global Games Market Report, the gaming industry is much larger, predicting a total 2016 US market of $23.5 billion. Worlwide gaming market "will generate a total $99.6 billion in revenues in 2016, up 8.5% compared to 2015". Though the US and North America make up a considerable chunk of this revenue (about 25%), it is China and the APAC territories alone which account for almost half of the total revenues (47%).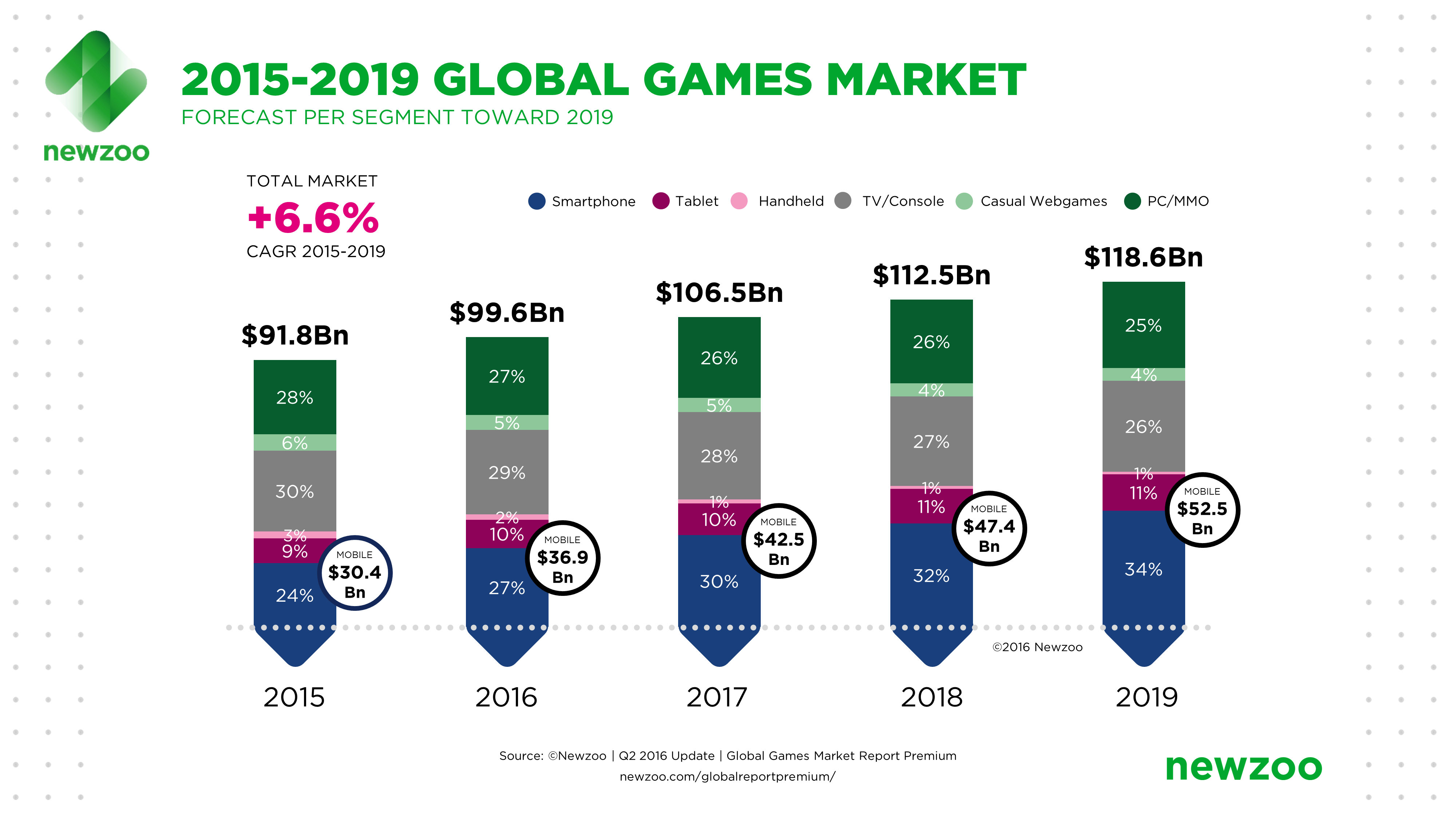 Mobile will generate 37% of the revenues. That will certainly lead to the rise of mobile eSports, but in the meantime PC competitive gaming will stay strong and continue to evolve.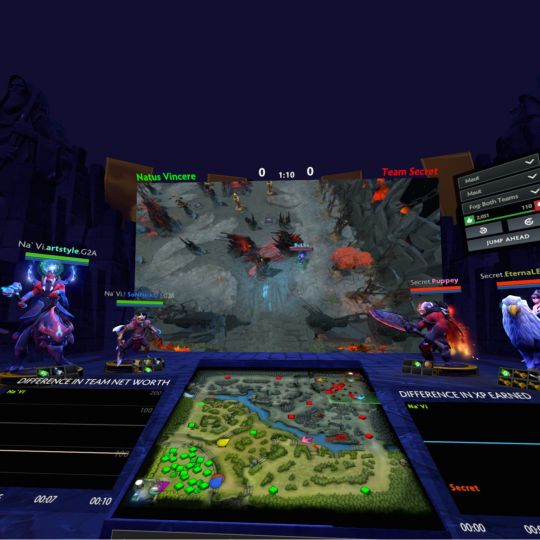 VR is also coming to eSports - as a spectator mode for DOTA 2 (video)
Revenue streams in eSports
You may be wondering, "How does eSports raise revenue anyway?" Of course, like any sport market, eSports garners revenue from ticket sales of viewers who want to see the tournament live. Then, there are the costs of advertisements during the web-streamed tournaments.
The online tournament platform ESL, which currently has 6 million users onboard, was bought by the Swedish company MTG for nearly 80 million euros last year, establishing eSports as a viable entertainment form. In fact, some companies have begun to broadcast eSports onto their television channels, making eSports more mainstream. ESPN3 broadcast the 2014 DOTA 2 international competition bringing eSports to the mainstream of American media.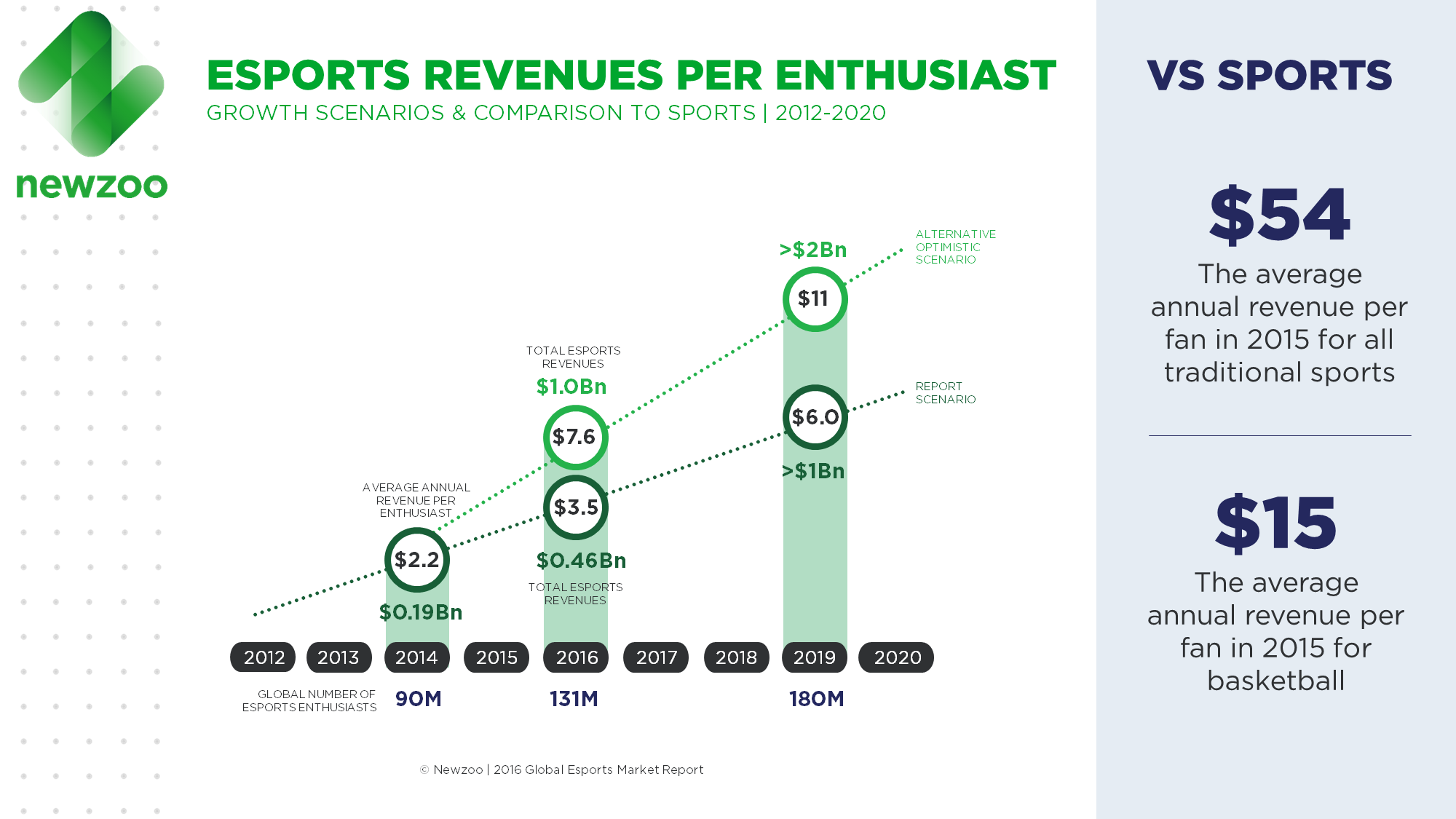 One revenue niche that may not be so intuitive is coaching, which is emerging as an increasingly popular channel within the market.
Gamer Sensei is an online matchmaking service platform for players of all skill levels looking for coaches. Like any skill, a player can only excel so much and so quickly to a certain extent before they are in need of a more knowledgeable person's advice. The platform has raised 2.3 million in seed funding which it will use to add team members for it's growing demand.
The co-founder of Gamer Sensei spoke to Venture Beat about the motivation to create the brand stating, "'The current market is a nightmare… There are a confusing array of claims and services online, and most just end up stealing your Battlenet ID or credit card.'"
Final thoughts
The formation of services like Gamer Sensei are just one example of how the eSports market has the potential to continue to grow rapidly for years to come. This could be an avenue for veteran gamers who are still interested in being involved in the industry. Other avenues for ex-gamers could include streamer, analyst or pro-team manager. This wide array of potential industry occupations will continue to increase the eSports market for years to come allowing the industry to pivot and expand as it matures.
Though eSports likely will never be able to compete with the likes of the NFL or MLB or NBA, it provides the perfect entertainment for a niche and most importantly, enthusiastic audience.
Written by Delaney FitzPatrick.