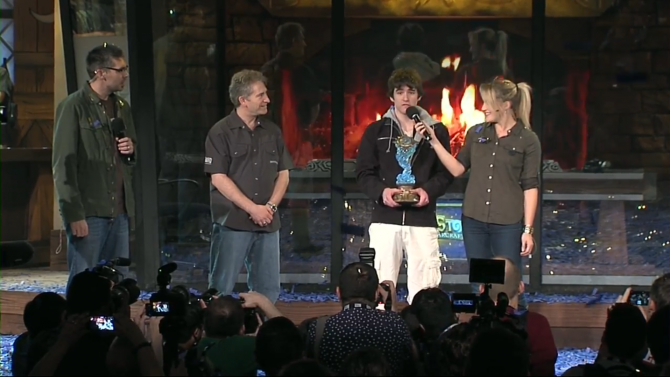 Firebat has become the first Hearthstone World Champion, thanks to a 3-0 victory over Tiddler Celestial in the final with Druid. Firebat takes home $100,000, while Tiddler is $50,000 richer. The two players now also share the joint top spot in the GosuGamers world rankings.
After six months of qualification through ladder achievements and smaller tournaments, gruelling regional qualifiers and two weekend's worth of intense competition among the top sixteen players, Archon'sFirebat stands tall as the winner of the first Hearthstone World Championships. Representing the Americas region, Firebat qualified as one of the top two seeds in that region and has outlasted some of the sport's top names to achieve the world championship crown.
While some might have longed for an epic back and forth series, Firebat swept China's TiddlerCelestial 3-0 in the final with a Druid deck that had seen little play in the tournament so far in a dominant performance befitting a world champion.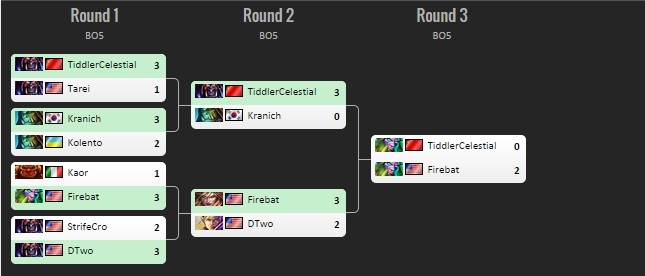 The series opened with a Druid mirror match, and both players wasted little time in piling in the damage. Both realised that the Druid combo was a very real threat in this matchup and were clearly anxious to finish the game early. Firebat took the intiative on turn nine, exposing his Shade to attack face and pushing in damage with a charged Druid of the Claw. Tiddler attempted to stabilise, but a turn ten Savage Roar topdeck along with a second Claw took the game for Firebat. Tiddler then opted for his Priest deck, but it was yet another fast start from Firebat that gave him an insurmountable advantage. With two Chillwind Yetis on board by turn four, Tiddler showed the first signs of pressure when he opted simply to pass rather than use his Holy Smite to allow for an Auchenai topdeck to clear the board without dying. Sure enough, the Auchenai came out on turn five, and not having enough mana to Power Word Shield the Soulpriest cost Tiddler his board presence. It was Firebat's turn to topdeck next as he pulled out a Keeper of the Grove to silence a threatening Sylvannas, and the combo allowed Firebat to take a 2-0 lead.
With his back against the wall, TiddlerCelestial was left with his Handlock deck that went 3-0 in his semi final against Kranich. Firebat once again took early initiative with both Keeper of the Groves coming out to deal with both Twilight Drakes. With Firebat piling up damage a Sludge Belcher allowed Tiddler to stabilise and begin to clear the Druid threats as they came down. Firebat topdecked The Black Knight to deal with the Sludge Belcher and put up a pair of Spectral Knights, and a pair of Swipes allowed him to take game, the series, and the world championship title.
Firebat defeated fellow Americas player DTwo in a 3-2 thriller to get to the final, while Tiddler overcame Korea's Kranich in a 3-0 Handlock blowout.
Source: gosugamers.net