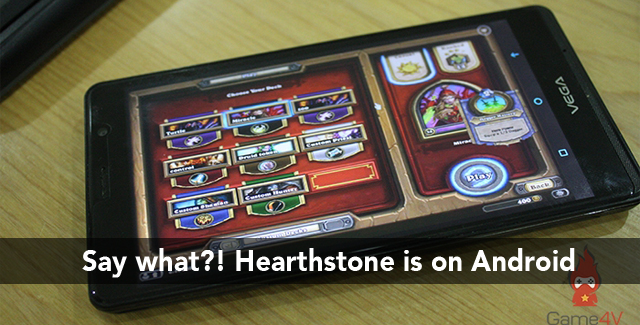 About a week ago, a Vietnamese gamer called Khanh Hoang Tran brought an Android phone to Game4v to show off his Hearthstone port. Hearthstone is currently available only for iPad, PC, and Mac, with the Android version announced for next year. What this dedicated fan did was transform the PC version of Hearthstone into a version playable on his small Android device.
The Hearthstone version Hoang created has caused a lot of excitement in the Vietnamese gaming community. While the game plays quite well on his phone, he wasn't sure if it'd work on other Android devices. However Hoang is optimistic, because the system requirements for the game are definitely low enough for most modern phones. Hoang also said that he had some minor technical difficulties with this Android version, but for now, he's quite happy with what he's done. Hoang stated:
"Even though I have played many MOBA games, my true passion is Hearthstone. It's really bugging me that Blizzard doesn't make a version for Android fans. Ok, so I'm going to make one instead. If we look at the smartphone market, Android is one of the key players, and I don't want to wait for Blizzard to make one for me. Fortunately, I found software that can have me transfer Hearthstone from my PC into this Android".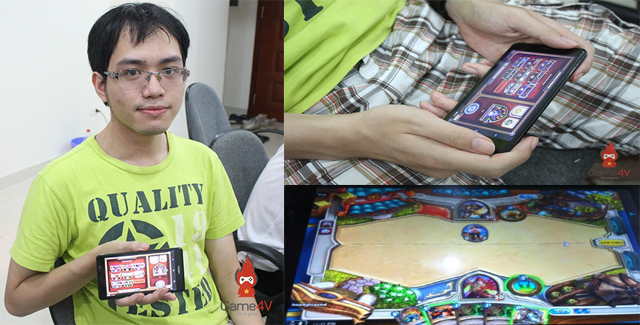 Porting the game wasn't exactly easy. Hoang said that he had to face all kinds of obstacles. There were lots of bugs, and it ended up crashing multiple times. The hardest thing was to match the software with the new hardware, and make them work smoothly together. The game still suffers from lots of lag, but for now it's a good start.
It's worth noting that this is not an official version of Hearthstone, nor is it a fan port sanctioned by Blizzard Entertainment. However Hoang can play Hearthstone on his Android phone just like he does on his iPad. The game runs off the official Blizzard-hosted servers as well, and gives the player access to Battle.net. Hoang also said that he will publish a "how to" article in the near future so other gamers can try this Android version. Many Vietnamese fans are excited because they don't have to buy an iPad to play Hearthstone.
While Blizzard still hasn't given any fresh updates on the Android version's release date, it presumably still remains on target for the upcoming release. Which should hopefully be at least some comfort for Android-using Hearthstone lovers.
Source: gamesinasia.com