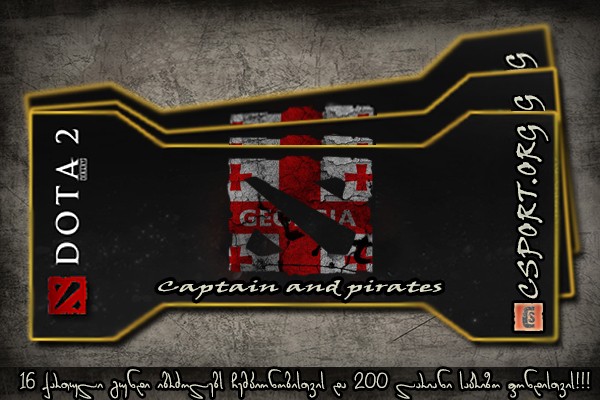 Guys from CSPORT, Georgia led by zaxonije prepared great invitation tournament for semi-pro scene - Captain and Pirates Season 1. Prize fund is $150 and there will be several seasons.
The mission of the event, according to zaxonije, to help grow esports in Georgia and drive more attention to it.
Scheldule of matches and streams:
TEAM SLARK VS USST 27.10 - 18:00 CET
3RD Unit VS ANIME REJECTS 27.10: 18:00 CET
Yalta Rush vs LAST TRYHARDS 27.10-19:00 CET
LastDream VS Lemondogs 27.10 - 19:00 CET
4N4N VS On Top GR 27.10-20:00 CET
HEHE UNITED VS Burizza Gaming 27.10-20:00 CET
Wild Pandaz Geo VS Sabay Gaming 27.10 - 21:00CET
D.P.W.Z VS 5BMJ 27.10-22:00 CET
Tournaments lobby and bracket.
Organizer: zaxonije. Judges: @SpaRROw and Alexander Krylov.
Don't miss streams!