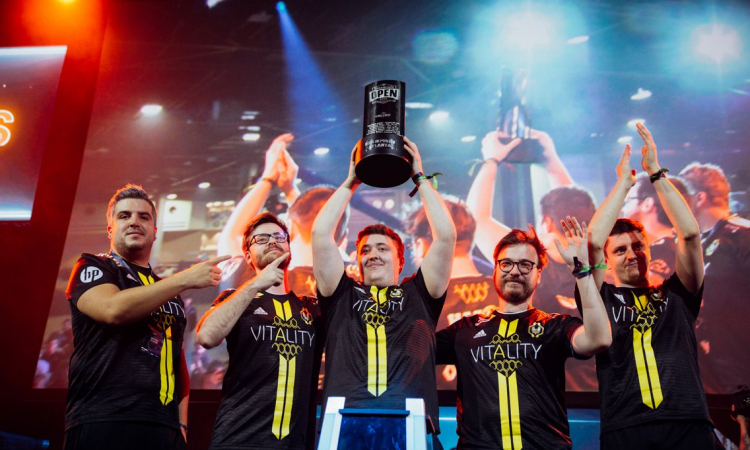 Following two consecutive ties, Vitality has earned their first win in Group A of BLAST Premier Spring Europe Showdown after besting Astralis 16-6 on Nuke.
The Danes failed to build on a commanding performance against sAw in their previous match, in which they recorded their first win with both Marco "Snappi" Pfeiffer and Jakob "JUGi" Hansen on the roster, as Vitality secured a dominant victory over the Danish side to achieve their first win of the tournament and increase their Group A points total to five.
The veto process saw the matchup head to Nuke, where Vitality locked down the CT pistol and the subsequent round to attain a 2-0 start. Astralis answered back in the next with guns in hand before the two teams traded two rounds apiece. A quick AWP double kill from Mathieu "ZywOo" Herbaut followed up by a clutch from the star player kicked off a string of six rounds, which was capped off with a 1vs3 by Cédric "RpK" Guipouy.
With the half looking as it would conclude overwhelmingly in Vitality's favor, a triple kill by Peter "dupreeh" Rasmussen helped the Danes pick up two additional rounds and reach the break at a 5-10 deficit.
A Richard "Shox" Papillon 1v2 clutch on the second half pistol put Vitality into the driver's seat for the remainder of the match as the Frenchmen stormed to a 15-6 lead, with Astralis managing just one round as Dan "apEX" Madesclaire's men hit map point. Facing off against a poor buy from the Danes in the final round, Vitality convincingly locked down the map 16-6 to take the win.
Source: hltv.org