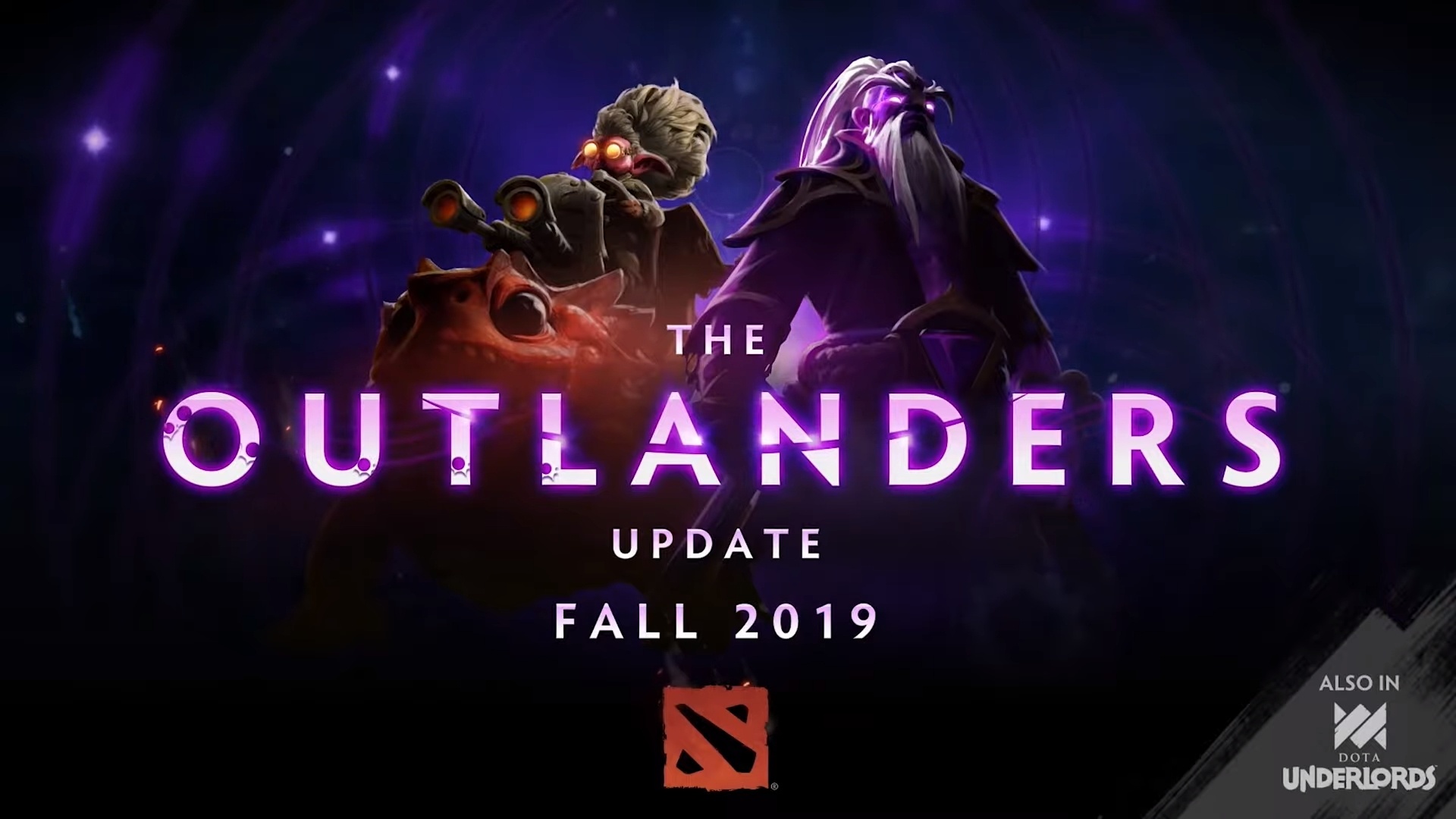 On 27th November night Valve introduced a new Dota 2 update - The Outlanders.
Let's talk about the neutral items today. Where get them? What to do with them? Who they suit better? The answers to these and other questions are here.
General information
The neutral items are unique. That means that you cannot buy them at Secret Shops or base, but you may share them with your ally. You may put them out, but you cannot destroy them. The items are dropped by neutral creeps from 5:00, provided a true hero is near, i.e., illusions cannot just beat them. There are five tiers. Each drop halves the chance of getting the item of the very tier.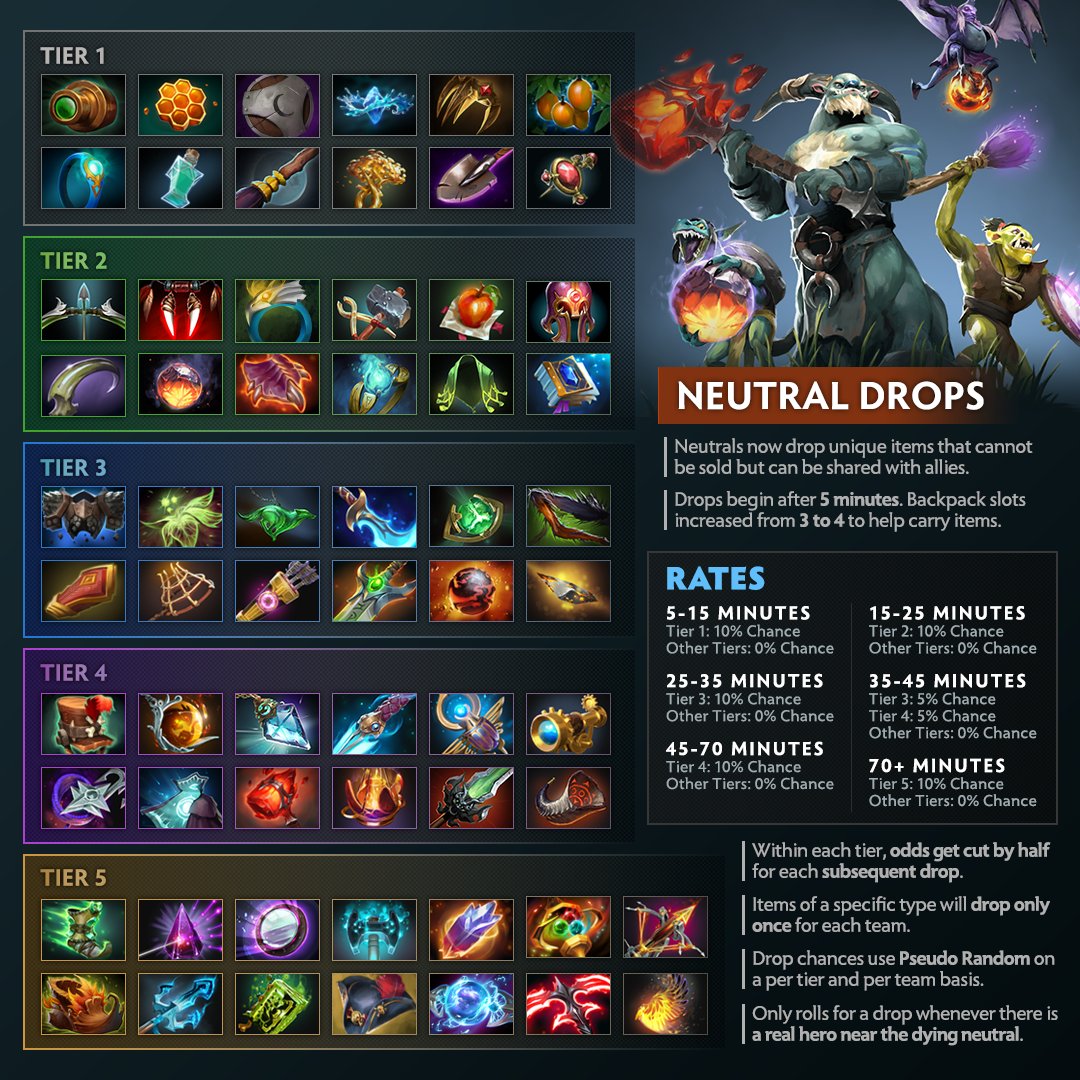 Tier 1

KEEN OPTIC
+75 to Cast range; +1.5 Mana regeneration

ROYAL JELLY
Consumable item with two charges. It grants providing 2.5 Health Regen and 1.25 Mana Regen. It may be used once per summon. Share with your allies.

POOR MAN'S SHIELD
The very Poor Man's Shield.

OCEAN HEART
+4 to all attributes. Provides 5 Health Regen and 2.5 Mana Regen. Works only while being in the river.

IRON TALON

MANGO TREE
Consumable item. Plants a mango tree in an indicated point, providing ultimate mango power. Every 60 seconds, Enchanted Mango falls down, providing vision within 800 radius.
ARCANE RING
+ 8 to Intelligence, +3 to Armor. Active ability restores 75 mana to all allies within 1200 radius. 40 seconds recharge.

ELIXIR
A consumable item with three charges. 500 Health Regen and 250 Mana Regen in 6 seconds.
BROOM HANDLE
Provides + 35 Attack range during melee, + 12 Attack damage, + 3 Armor.

IRONWOOD TREE
Three Iron Branch combining recipe. Creates Ironwood Tree, providing + 7 to all attributes; allows for planting a special tree. Four seconds recharge. Cast range: 800.

TRUSTY SHOVEL
Provides + 150 Health. Active ability is used for a second and can find a Bounty Rune, Healing Salve, and two charged TP Scroll bundle or an enemy Kobold. Dug up treasures are not duplicated. 70 seconds recharge.

FADED BROACH
Provides + 25 Mana, + 20 Movement speed.
Tier 2

GROWE BOW
+100 Attack range. The Attacks reduce enemy magic resistance by 12.

VAMPIRE FANGS
+10 Lifesteal, + 10 Ability lifesteal, +250 Night vision radius.

RING OF AQUILA

REPAIR KIT
A consumable item with three charges. In 30 seconds, it repairs 40% Health of the chosen building. It provides a + 10 Armor and +4 Multishot attack during working.

PUPIL'S GIFT
+14 Secondary attributes.

HELM OF THE UNDYING
+6 Armor. The keeper survives for an extra 5 seconds after receiving a killing blow.

IMP CLAW
+ 18 Attack damage. The Passive ability makes the next attack critical, causing 160% damage. 10 seconds recharge.

PHILOSOPHER'S STONE
+75 Gold per minute, +200 Mana, -35 Attack damage.

DRAGON SCALE
+5 Armor, +5 Health Regen. The keeper's attacks burn the enemy or the building for three seconds, causing 12 damage per second.

ESSENCE RING
+6 Intelligence, +2.5 Mana Regen. The Active ability provides +375 Health and gains 375 Max Health for 15 seconds. Mana cost: 200. 25 seconds recharge.

NETHER SHAWL
+8 Spell damage, +20 Magic resistance, - 4 Armor.

TOME OF AGHANIM
A consumable item, providing Aghanim's Scepter bonuses for 3 minutes.
Tier 3

CRAGGY COAT
+13 Armor, - 35 Attack speed.

GREATER FAERIE FIRE
A consumable item with two charges. +30 Attack damage. It may be absorbed for instant restoring 500 Health. 10 seconds recharge.

QUICKENING CHARM
It reduces the cooldown time of all spells and items by 13%. +9 Health Regen.

MIND BREAKER
+15 Magic Resistance. The attacks burn 30 mana aims. All the burnt mana goes to the item keeper. Illusion attacks burn six mana.

THIRD EYE
+300 day and night vision radius. Grants invisibility within 500 radius. It has three charges. Vanishes after three deaths.

SPIDER LEGS
+24 Movement speed (doesn't adding with the boots) and +30 to Turn rate. The active ability provides free pathing that works for 3 seconds. The keeper destroys the trees he walks over. 10 seconds recharge.

VAMBRACE
The joining recipe for Bracer, Wraith Band, or Null Talisman into Vambrace item with the corresponding attribute. It provides +14 to the item attribute, + 8 other attributes, and +12 Magic resistance or + 12 Attack speed or +8 Spell damage depending on the item attribute.

CLUMSY NET
+5 to all the attributes, +3 Mana Regen. The active ability throws a net that holds the enemy aim and the keeper himself for 2 seconds. Cast range: 900. 25 seconds recharge.

ENCHANTED QUIVER
The passive ability empowers the next Ranged attack with +400 and provides 175 magical damage. You cannot miss using this attack. 8 seconds recharge.

PALADIN SWORD
+17 Damage, +17 Lifesteal, +17 Health while regen, healing, and lieftealing .

ORB OF DESTRUCTION
The attacks reduce enemy's Armor for six and slow the Melee Move Speed/Ranges Move Speed for 30%/15% for 4 seconds.

TITAN SLIVER
+22 Base attack damage, +22 Magic resistance, +22 Status resistance.
Tier 4

WITLESS SHAKO
+28% Max Health, - 40% Max Mana.
TIMELESS RELIC
+35% Debuff duration, +10% Spell damage.

SPELL PRISM
+8 to all the Attributes. Uses the next summon active ability against the nearby enemy, but first of all, against heroes. It doesn't work against ults. 80 seconds recharge.

PRINCE'S KNIFE
+60% Projectile speed. The coming attack turns the enemy into a frog for 1.5 seconds. 12 seconds recharge.

FLICKER
The active ability dispells debuffs and moves the keeper to a random spot within 600 radius. 5 seconds recharge. Mana cost: 25. It does not get disabled on incoming damage.

TELESCOPE
It lowers Scan cooldown by 50%. Increases attack and cast range of allies for 125.

NINJA GEAR
+ Agility, +25 Movement speed. The activated ability casts Smoke of Deceit on the keeper. 45 seconds recharge.

ILLUSIONST'S CAPE
It increases outgoing damage of all units and illusions controlled by the hero by 10%. The active ability creates an image under the keeper's control, which creates a 50% damage, gets 150% of damage during 20 seconds. 30 seconds recharge.

HAVOC HAMMER
+60 Attack Damage, +18 Strength, +0.3 seconds to the base attack interval. The active ability knocks the enemies back within 300 radius for 250, slowing their movement down for 50% for 3 seconds.

MAGIC LAMP
+400 HP. A passive ability: when the keeper's health falls below 15%, they will receive a hard dispel, healing him for 30 health. 75 seconds recharge.

THE LEVELLER
+50 Attack speed. It provides bonus damage to buildings, causing 50% damage within 400/250 radius.

MINOTAUR HORN
+20 Strenght. The active ability provides Spell Immunity for 1.75 seconds. 40 seconds recharge.
Tier 5

FORCE BOOTS
+50% Movement speed. It removes the speed limit for the keeper. The active ability dispels the user and pushes them 800 units in the direction they are facing. 6 seconds recharge.

SEER STONE
+500 Cast range, +800 Vision.

MIRROR SHIELD
+20 to all the attributes. 75% probability of reflecting the most targeted spells back to their caster.

FALLEN SKY
Blink Dagger and Meteor Hammer containing recipe. +20 Strength, +20 Intellect, +15 Health Regen and +10 Mana Regen. It transforms the keeper into a meteor that strikes down at the target area, uses stun and Meteor Hammer item damage. Cast range: 1600. 15 seconds recharge. It doesn't recharge after getting damage.

FUSION RUNE
A consumable item with three charges. It provides the bonuses of every Power Rune for 50 seconds. 120 seconds recharge.

APEX
It increases the Primary attribute for 80%.

BALLISTA
+400 Attack range. Each attack knocks the enemy back to 50.

WOODLAND STRIDERS
+50% Movement Speed, +50 Health Regen. It removes the speed limit and allows walking through the trees. The active ability creates a path of trees behind the keeper for 3 seconds. These trees last up to 60 seconds. 20 seconds recharge.

TRIDENT
The Sange, Yasha, and Kaya items combining recipe. + 33 Agility, +33 Strength, +33 Intelligence, +33 Movement Speed, +33 Attack Speed, +33 Status resistance, +33 Mana loss reduction, +33 Health Regen amplification, +33 Spell damage.

BOOK OF THE DEAD
+35 Strength and Intelligence. The Active ability summons up 6 level 3 Necronomicon Units that last 90 seconds. 75 seconds recharge.

PIRATE HAT
+250 Attack speed. The passive ability creates a bounty rune between the keeper and his victim when the keeper kills an enemy hero.

EX MACHINA
+25 Armor. It resets the cooldowns on all items except Refresher Orb. 30 seconds recharge.
DESOLATOR 2
+100 Attack speed. The attack reduces the victim's armor by 12.

PHOENIX ASH
+30 to all the attributes. When the keeper gets the lethal damage, it doesn't kill him, but completely heals him, using one charge of the item.
Summing up
There tons of items, but which of them are necessary and who needs them? Nealy all the neutral items have analogs available at shop. For instance, Arcane Ring is very similar to Arcane Boots, and Phoenix Ash is similar to Aegis of Immortal. That is why we advise you to act on a situation and share the items with your allies. Let's say you play for Enchantress and knock from the jungle creep Tome of Aghanim. In this case, you better give it to the mid-lane Invoker. As Dota 2 is a team game.