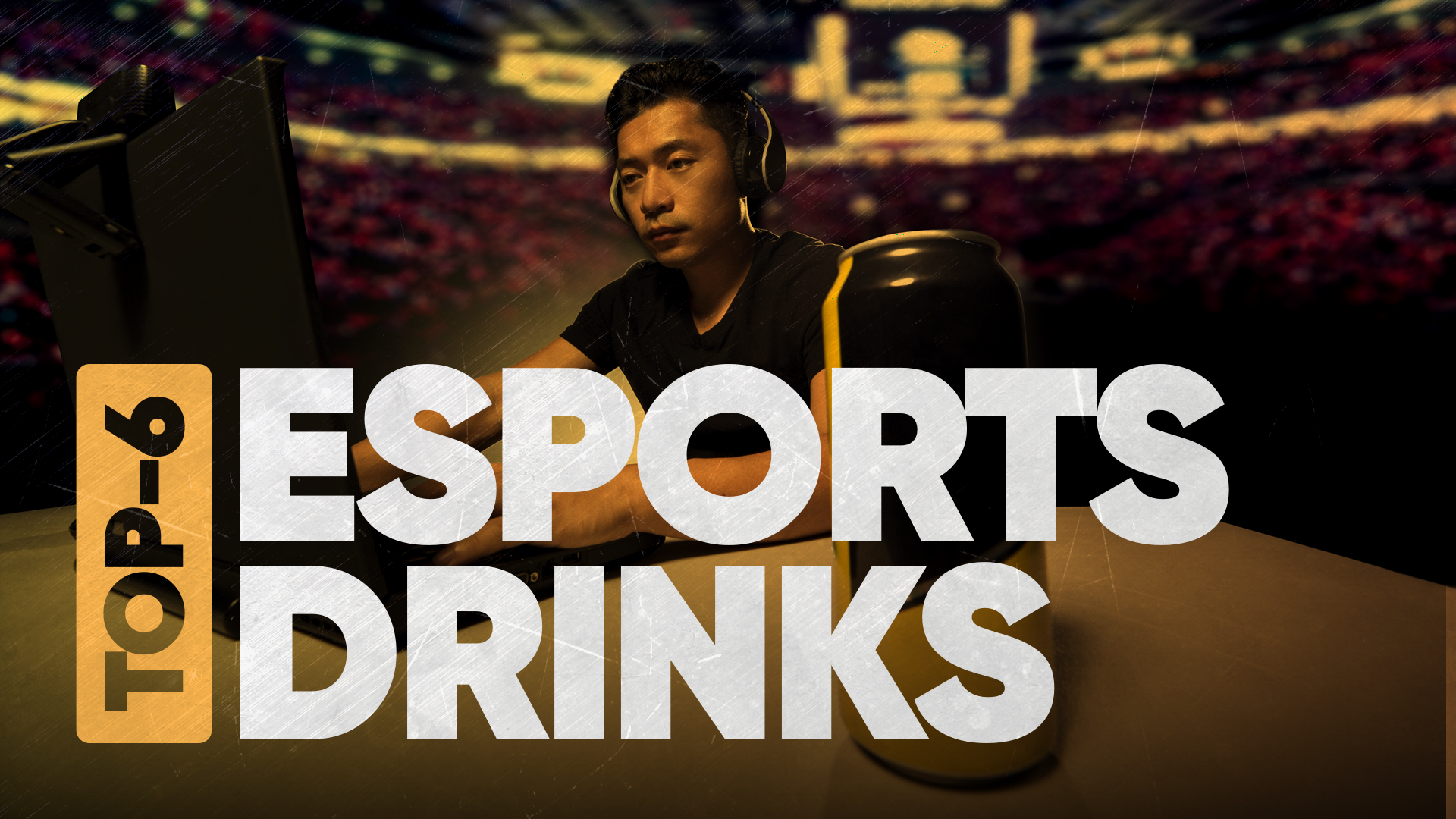 Today esport is one of the most effective ways for brands to interact with an audience. In 2011 Dota 2 world championship got 11.4 billion spectators, 11.4 billion in 2017, and 15 billion in 2018.
Thus, the increasing popularity which draws the attention of huge corporations to the esport becomes clear. Now there are five esport favorites: Dota 2, League of Legends, CS:GO, Fortnite, and PUBG. The teams, broadcasting, and tournaments connected with these disciplines are considered to be a great basis for brand promotion.
There's a list of top-6 drinks that somehow appeared in the esport. It was made up by esport agency "Click-Storm Agency" together with marketing stealth-startup ZBIT partner which is concerned with social network users analysis. The main criterion for the comparison was the meeting of VK community followers.
The research technique
We've scanned the number of people who follow the brands and esport disciplines at the same time. As the number of followers differs, the meeting of each brand with specific discipline is given in percentage.
The list of the best brands is made on a number of crossings. The brand which has most of them tops the list. Others are arranged in descending order.
No. 6 — Red Bull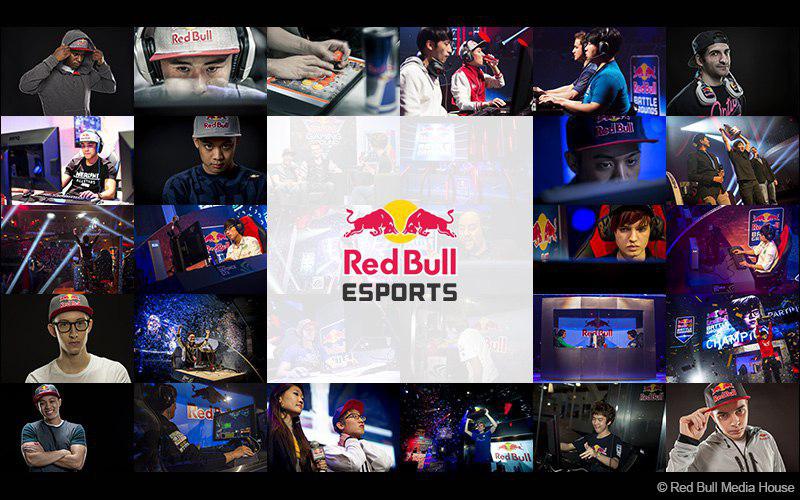 Red Bull is one of the first non-endemic drinks that appeared in the esport. This brand held major tournaments in various disciplines such as Red Bull Kumite qualification in 2018 (the Street Fighter V in Japan tournament) or "Red Bull University League of Legends" program based on the same title game in 2017-2018. The logos of the company are frequently seen at big and local esport tournaments.
Besides commercial integrations and sponsorships, Red Bull makes high-quality content on Twitch, YouTube, and social networks.
"Red Bull Esports" Twitch channel gets 17.3 billion views, and the number of followers is more than 112 thousand. On YouTube, this channel is followed by more than 100 thousand people, and videos gain 200 000 — 1 billion views.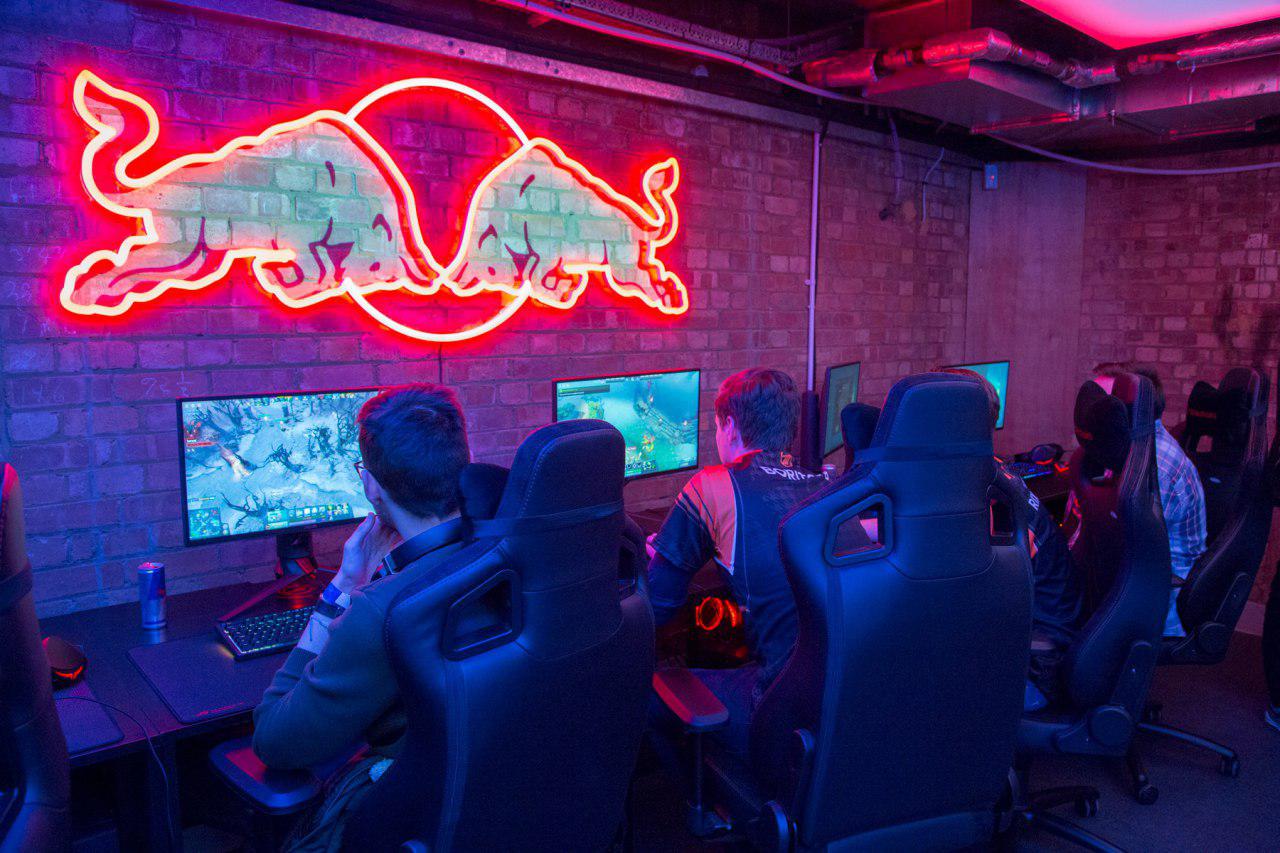 Twitter and Facebook followers are 264 and 191 thousand, respectively.
Considering the number of users who meet with the disciplines we have mentioned is 43 thousand (which goes for 2.8%), we may say that Red Bull has a minimum of crossings in the esport segment among CIS countries (compared to other brands from the article). In other words, Dota 2, CS:GO, League of Legends, PUBG, and Fortnite players in Russia are less interested in this brand than in others comparing by vk.com audience crossings criteria.
Most effect was seen in Dota 2 (28.6%), Fortnite (24.4 %) and PUBG (22.6%) , less effect — in League of Legends (10.5%) CS:GO (14%). We should mark that despite high brand activity in the esport, the audience of the largest game-societies has few crossings with the brand's social networking audience.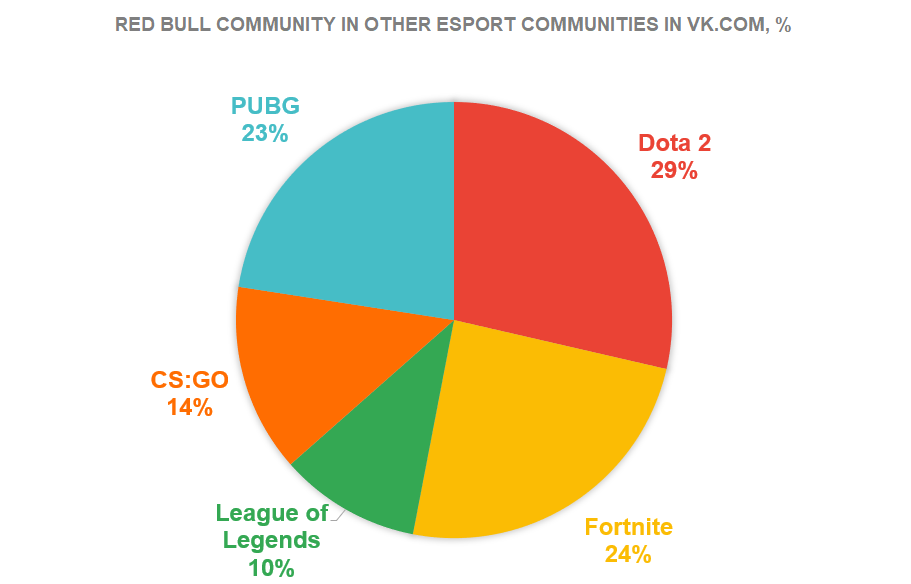 No. 5 — Monster Energy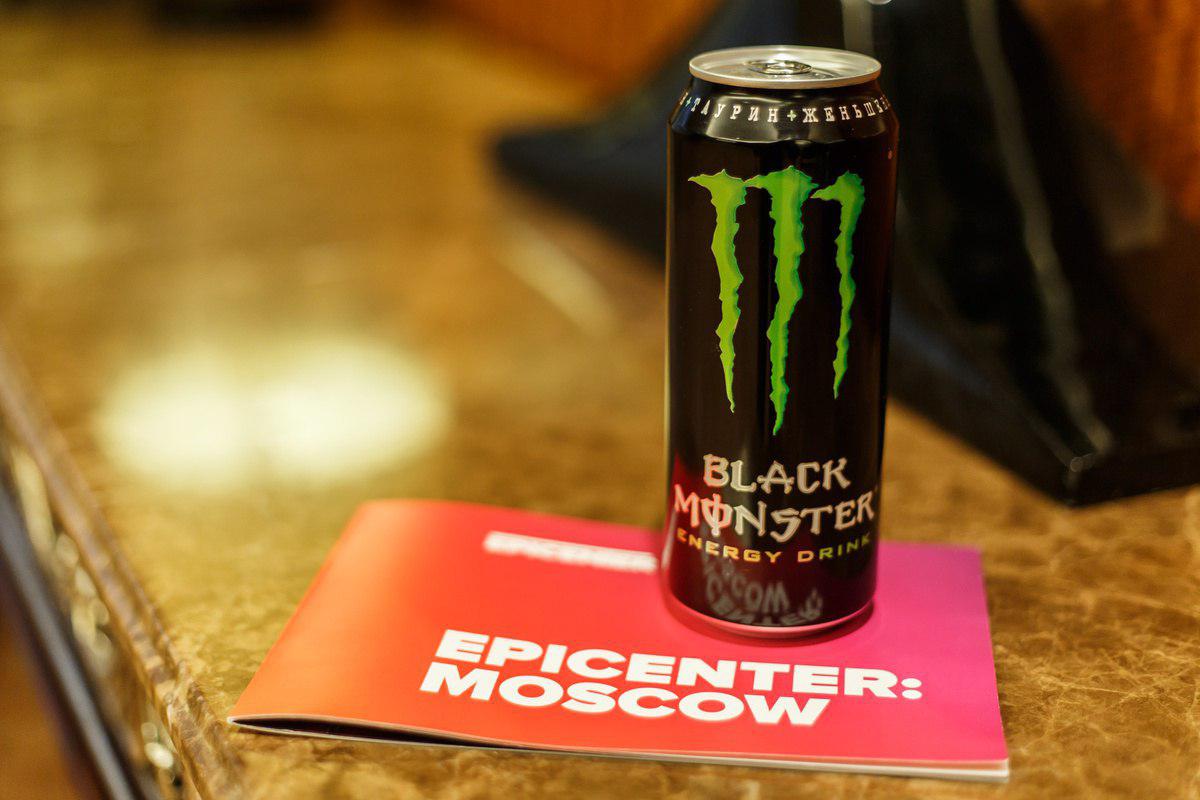 Monster Energy became a sponsor of many esport teams like Alliance, Team EnvyUs, Evil Geniuses, Fnatic, Team Liquid, Na'Vi, Paing Gaming, Vici Gaming.
This company sponsors streamers on Twitch and YouTube as well as Ali A, GoldGlove, Simmit1G, TimTheTatman, Wizzite, lolRenaynay, iijeriichoii.
Black Monster was a partner of Epicenter tournament in 2016 and 2018. Epicenter XL prize was 1 billion dollars, audience diapason — 3.5 billion viewers.
Monster Energy's number of crossings in the CIS region is made up of 54.3 thousand or 2.8% compared to other brands in the article. That makes it penult in the list — 0.2% ahead Red Bull.
Within Fortnite (35,7%), PUBG (26,9%), Dota 2 (23%), it proved itself, which cannot be said about CS: GO and League of Legends — 9 and 5,3 percent respectively.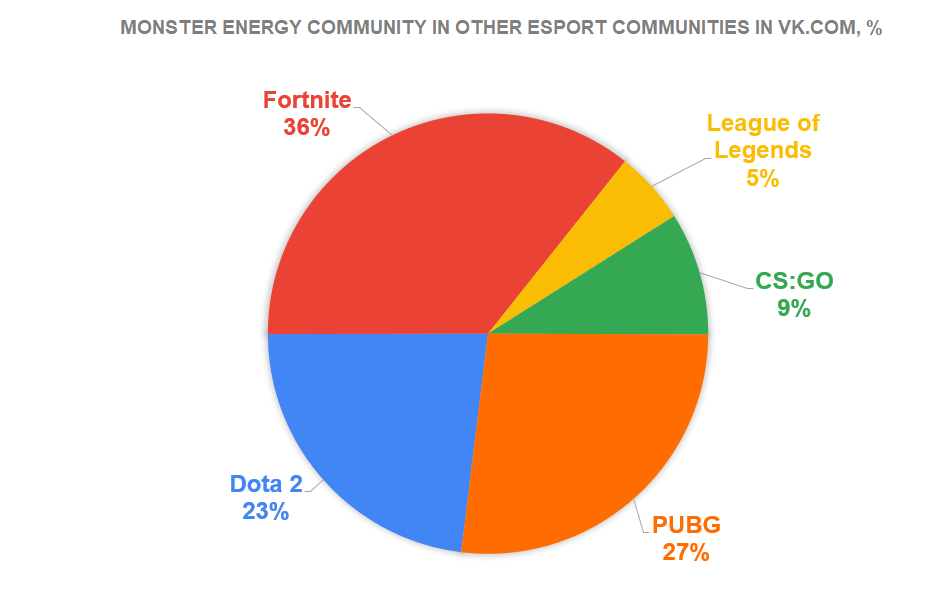 No. 4 — Adrenaline Rush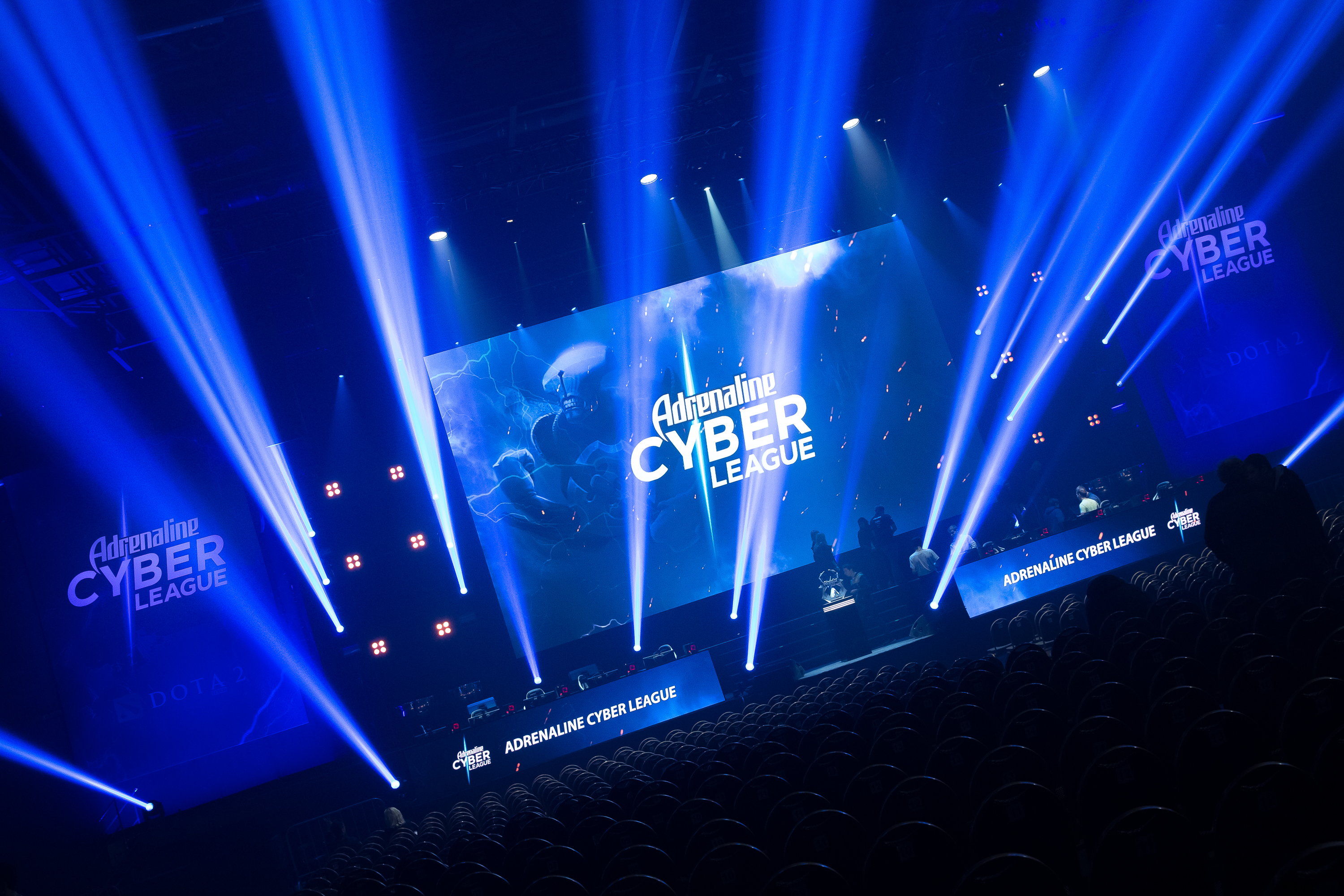 Speaking about the esport, Adrenaline Rush showed up here as tournaments' organizer and sponsor. The company held CS:GO Adrenaline Cyber League 2018 at Adrenalin Stadium, Moscow. Teams from CIS, Poland, and Brazil were taking part in that tournament struggling for 100 thousand dollars prize fund.
The prize fund of Dota 2 Adrenaline Cyber League 2017, which was also organized by Adrenaline, was 100 thousand dollars as well. This time participants were 16 teams from CIS and Europe.
The crossings amount of Adrenaline with esport groups of CIS totals 57 thousand (2.8%). That sets this brand on the 3rd place of our list of most effective drinks companies in esport.
We may see that PUBG (21,1%), Dota 2 (29,6%). and Fortnite (24%) suited this brand best, while League of Legends and CS: GO got just 12.1 and 13.2 percentage of effectiveness, respectively.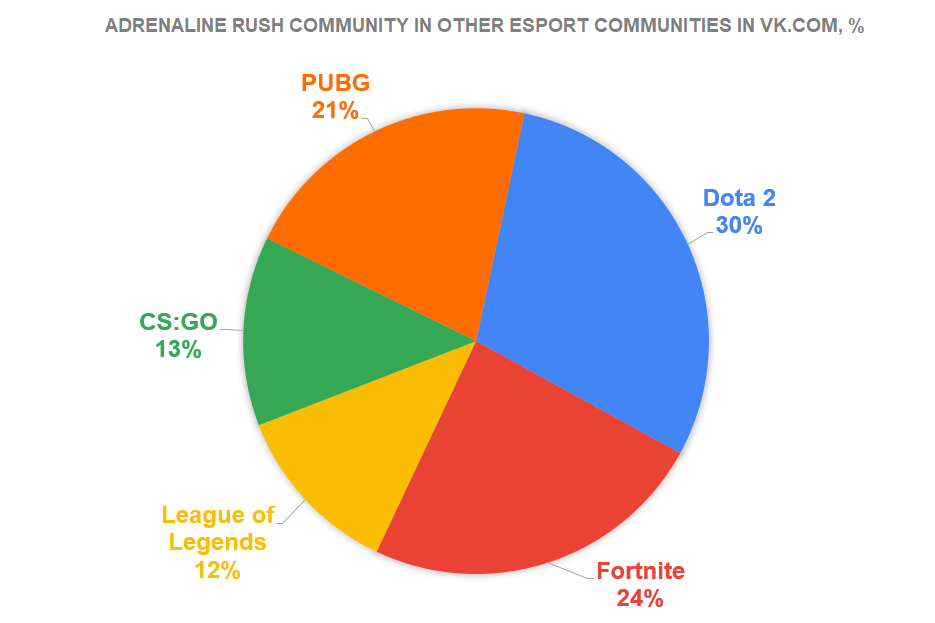 No. 3 — Tornado Energy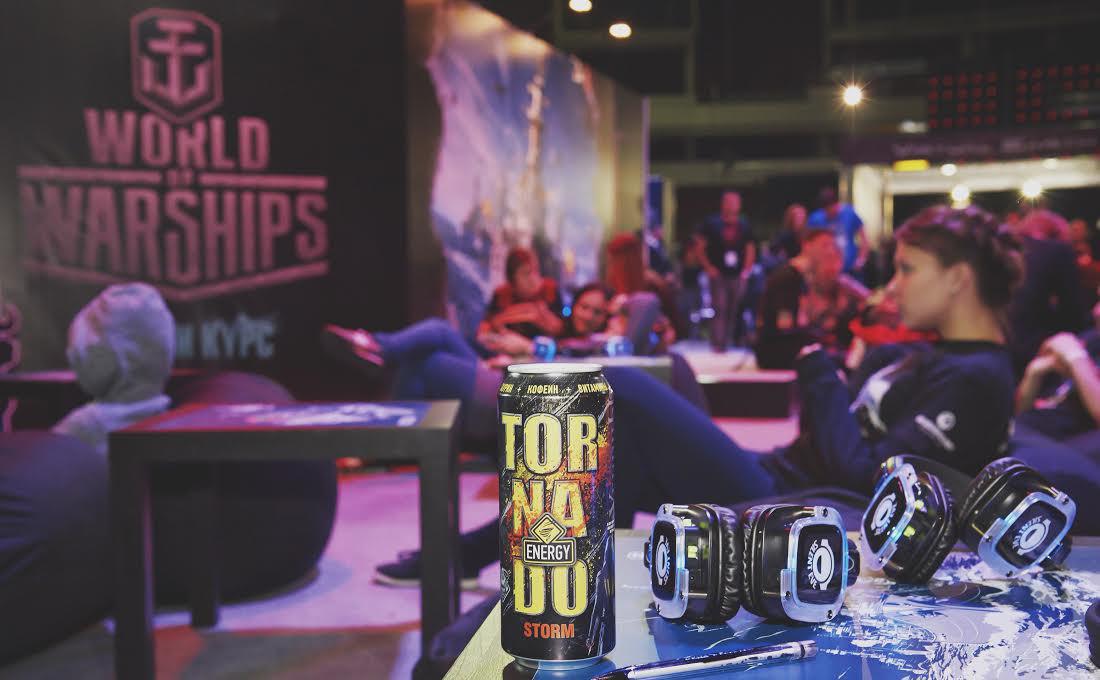 In 2016 Tornado Energy turned to be the major sponsor of the Tornado Energy team (former HellReisers) at World of Tanks. In 2019 Tornado became a partner of Russian multigaming Virtus.pro. We should not also forget about the ROX team's sponsorship, which was changed to Tornado Rox.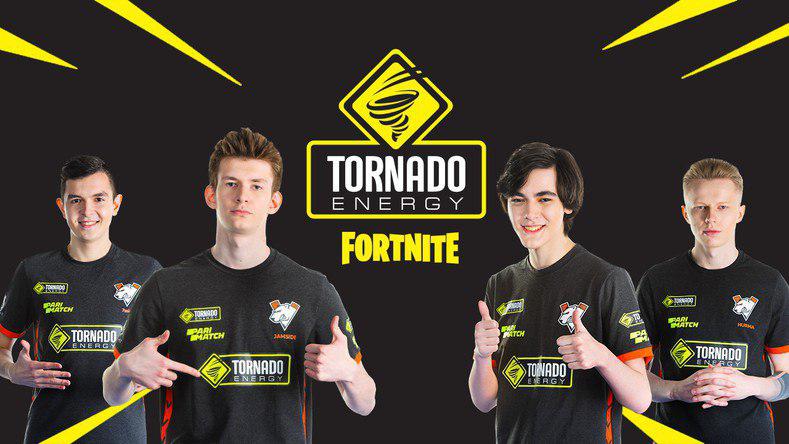 The number of Tornado CIS crossings is 128 thousand (6.2%).
Most tellingly, this brand was handled in Fortnite (29,4%), Dota 2 (27,3%), PUBG (23,4%), and less effective in CS: GO (11,3%) and League of Legends (8,5%).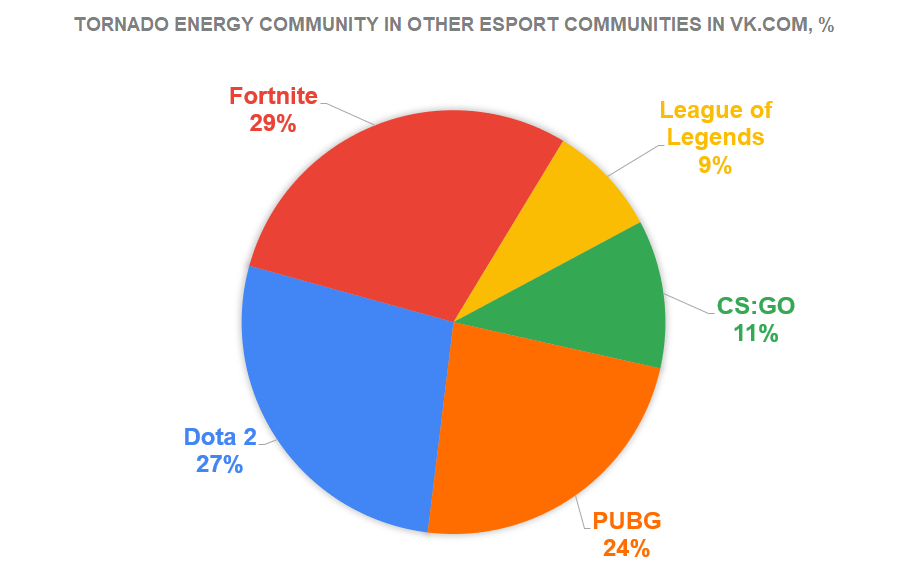 No. 2 — Pepsi

The total of Pepsi's esport crossings in CIS is 564.8 thousand (27.3%).
The most effect was seen in PUBG (35,4%), Fortnite (32,2%), and Dota 2 (23%), and luckily or not, less effect at CS: GO (5,2%) and League of Legends (4,2%).
Interesting fact: Pepsi almost does not have an activity in esports, but this brand still may be spotted out. Being a huge parent company Pepsico comprises such companies as Pepsi, Mirinda, 7up, Adrenaline, etc. Obviously, it distributes energy drinks in esport, but not Pepsi or Mirinda, which are all in all recognized by everyone.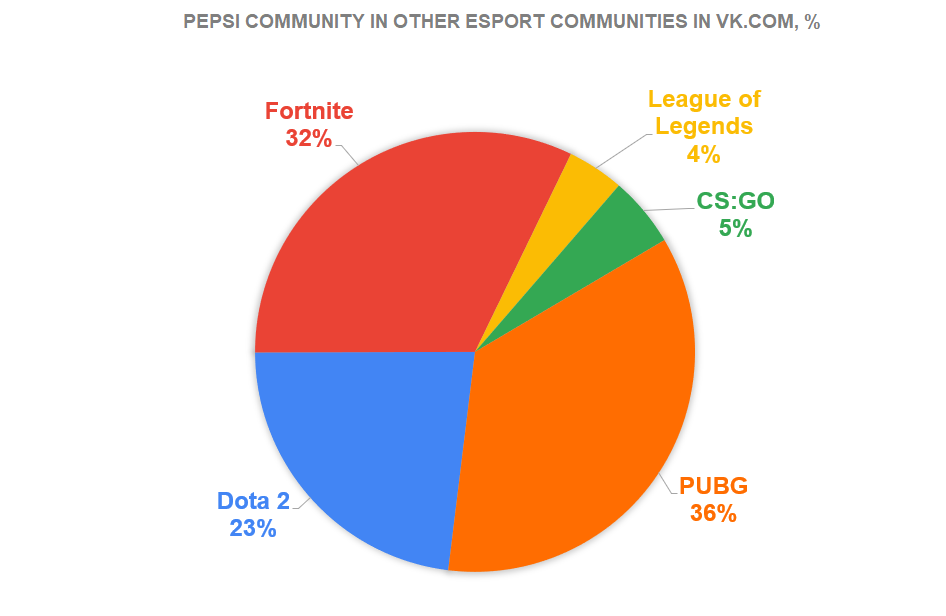 No. 1 — Coca Cola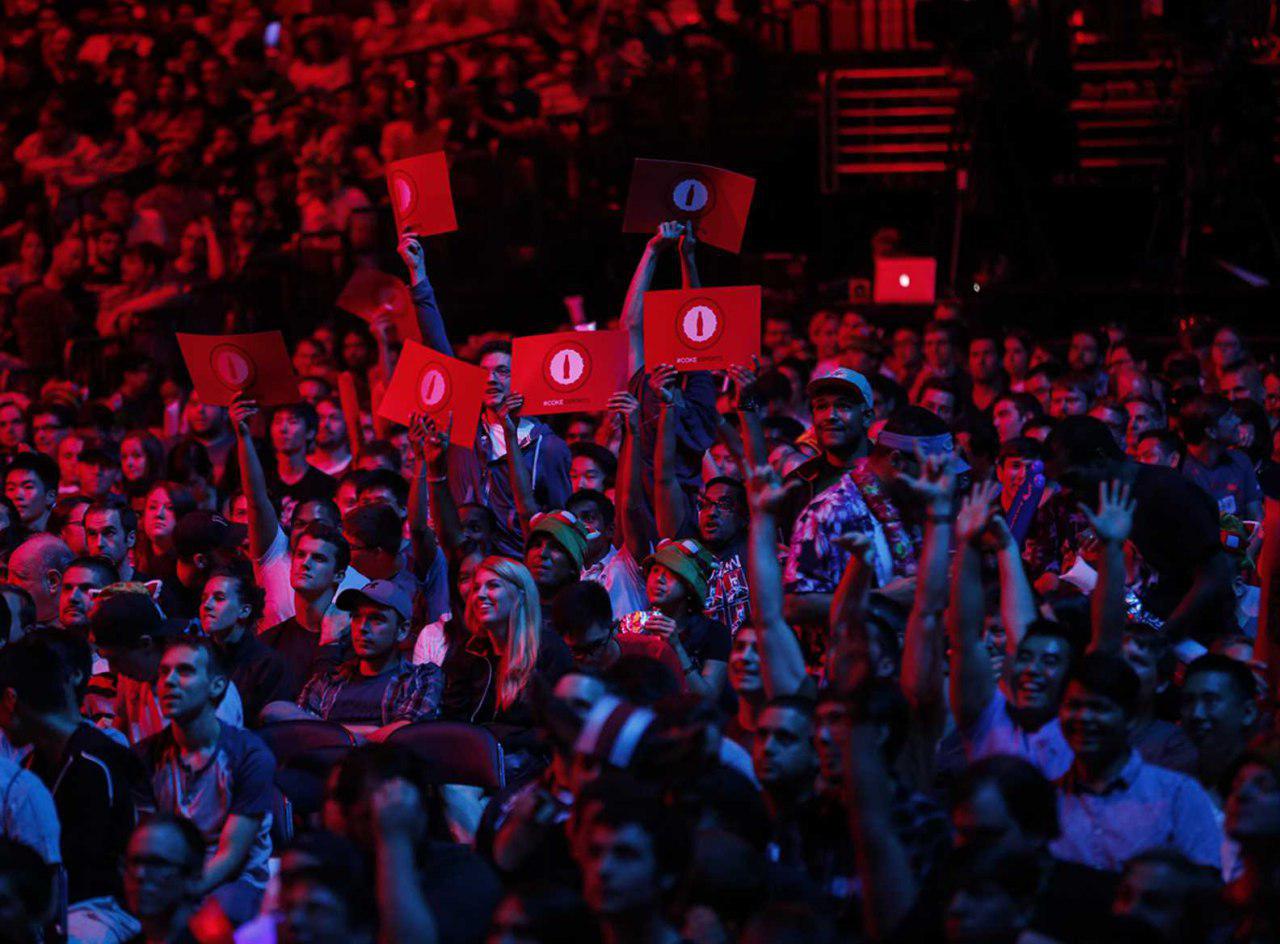 In 2014 Coca Cola became a partner of Riot Games, which produced the most popular esport game in the world- League of Legends. The company started posting its logo at tournaments and games' broadcasting as well as producing drinks with pics and names of main characters of the game.
Together with RESF, Russian Football Union and VY Esports company held FIFA 18 Russian Cup within a prize fund of 1 billion rubles. The worldwide FIFA 18 championship cut quotums within 1 billion dollars. The cup final took place at Yota Arena.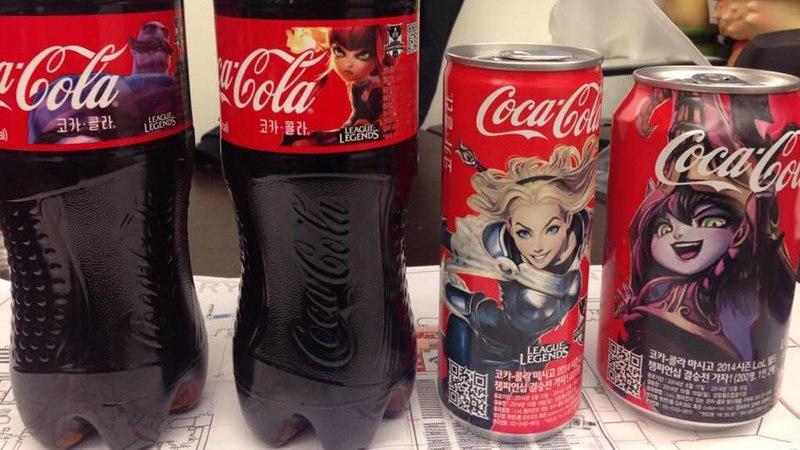 Coca Cola has the biggest number of crossings in both quantitative ratio and percentage. Being at the top of the list, the company has more than 1.2 billion people in the crossings, which goes for 59.1%.
Most effectively for brand were Fortnite (33,7%), PUBG (30,1%), Dota 2 (25,7%) and less effectively — CS:GO (6,1%) and League of Legends (4,4%).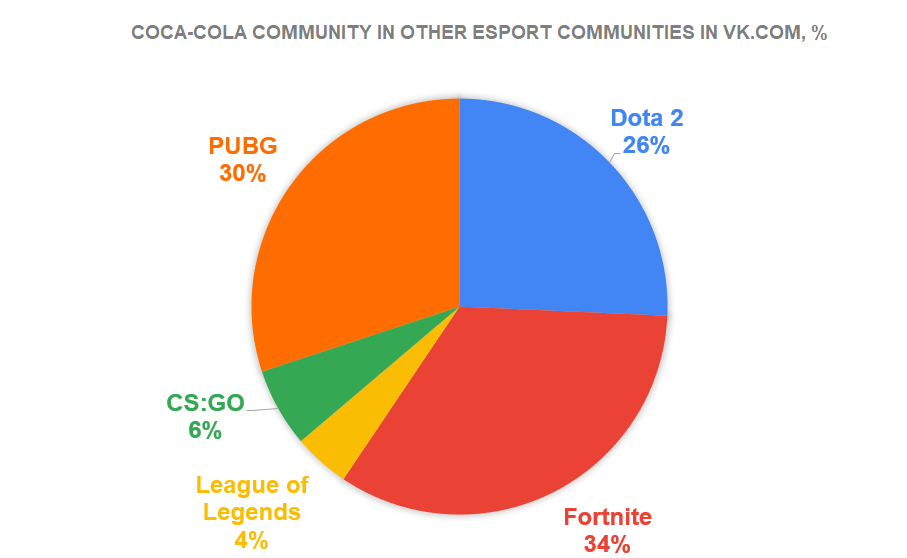 Coca Cola is not very keen on the esports, but its a top-drink not only among esport audience. It's not a secret that Coca Cola has a rich history and leading positions at alcohol-free drinks trading, excluding water, tea, and coffee.
Here are the general audience crossings of just mentioned brands with esports disciplines' audience: