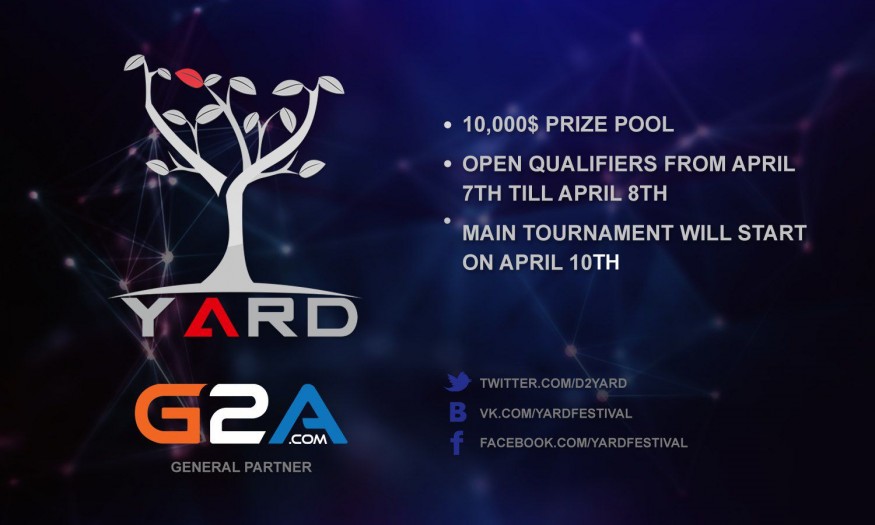 Yard Fest is a brand new tournament, mainly for the non premiere teams and will have a prize pool of $10,000. It'll feature Tier 1.5 - 2 EU teams, namely Burden United, Power Rangers, Goomba Gaming and so on.
Yard Fest Episode is a completely new online tournament and will have a prize pool of $10,000. The open qualifiers begin on 7th April and that main tournament will be starting on 10th April.
The open qualifier winner will get a prize just for qualifying and will get a spot in the main event. The tournament will have a straightforward single elimination format and a total of sixteen teams, fifteen invitees and one team will be coming from the open qualifier.
The teams invited :

Burden United


Basically Unknown


4 anchors + sea captain


London Conspiracy


FlipSid3


XPC


mYinsanity


Balkan Bears Corleone


Vega Squadron


Moscow Five


ScaryFaceZZZ


Power Rangers


4clover and lepricon


Goomba Gaming
Prize pool:
Main event:
1st place get 5,000$

2nd place get 3,000$

3rd place get 1,500$
Qualifiers:
1st place get 300$ and slot in the main event

2nd place get 200$
Most of these teams have been performing well in premiere tournament qualifiers; Goomba, SFZ and London Conspriacy made it to the second phase of Starladder 12 and are still competing, Burden United are on the top of the standings in the Dota Champions League against some of the best teams in Europe.
These teams regularly compete in smaller online tournaments regularly and there could be possible upcoming grudge matches although the brackets are yet to be released though.
Sources : Yard Fest Website, gosugamers.net