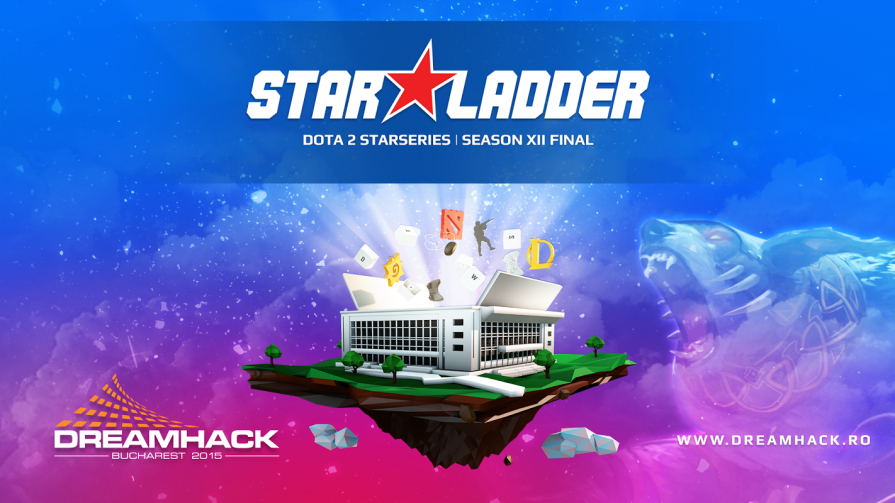 PGL and StarLadder.tv (SLTV) are thrilled to announce a new partnership that will see the StarSeries Season XII LAN finals hosted at DreamHack Bucharest 2015 (April 24-26, Polyvalent Hall).
For the first time in the tournament's history, the StarSeries finals will leave the Cybersport Arena - making Bucharest the first European city outside of Kiev to host a SLTV StarSeries LAN finals event. The audience at DreamHack Bucharest 2015 will have the unique opportunity to see the eight best Dota 2 teams in the world battle it out for the championship title.
Season XII has a base prize pool of 80,000 USD + community contributions from DotaTV subscriptions, which at the time of this release have increased the total prize pool to over 110,000 USD.The 12th Season of the SLTV StarSeries changed the traditional format of the league, with an initial group phase gathering 40 teams from four regional divisions:
Europe - 4 groups (each group includes 4 teams)
America - 2 groups
China - 2 groups
South-East Asia - 2 groups
Division matches began on March 9 and will conclude on April 6 and each of the four regions will be represented in the finals at DreamHack Bucharest 2015 as follows:
4 teams from Europe
2 teams from China
1 team from America
1 team in South-East Asia
Apart from the strongest teams from Europe, China, South-East Asia and America, the SLTV StarSeries XII finals will also feature a leading panel of casters and analysts, the best and brightest from both Starladder.tv and BeyondTheSummit Studios, providing both Russian and English commentary respectively.
Official stream links:
- twitch.tv/dotastarladder_en (EN)
- twitch.tv/starladder1 (RU)
Tickets to DreamHack Bucharest 2015 are available for international visitors through esportshop.eu. The official DreamHack Bucharest 2015 hotel is the Intercontinental.
Keep an eye on www.dreamhack.ro for more information on the SLTV Star Series Season 12 LAN finals and the qualified teams.