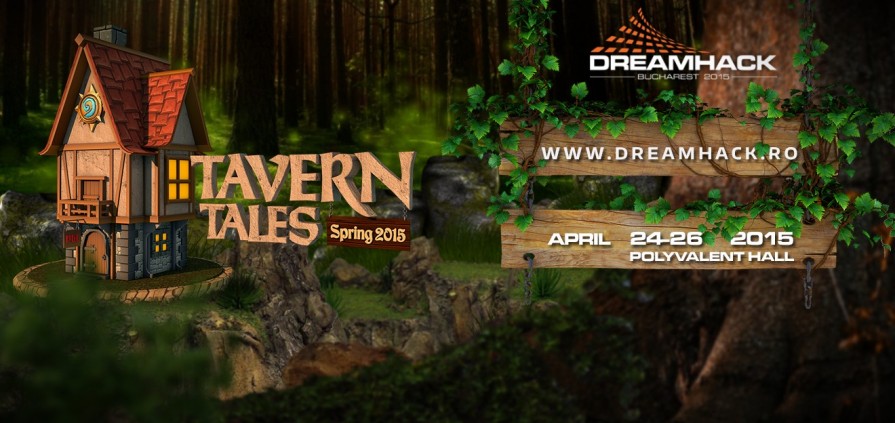 (Bucharest) March 17. Some of the best players in the world are headed to Bucharest's Polyvalent Hall to battle it out in Hearthstone: Heroes of Warcraft—Blizzard Entertainment's popular online digital card game.
During DreamHack Bucharest 2015 (April 24-26), card-slingers will compete in the PGL Spring Tavern Tales 2015 tournament for a share of the $10,000 USD prize pool and the 115 World Championship Points at stake. PGL will broadcast the event live from the Polyvalent Hall on its Hearthstone-dedicated Twitch channel: twitch.tv/pgl_hs.
The PGL Tavern Tales 2015 will welcome not only pros, but amateur players alike, with 24 slots available to anyone who wishes to participate. Any DreamHack Bucharest attendee will be able to join in the fun by purchasing a Tavern Tales PatronTicket through eSportShop.eu! Additionally, eight more slots will be claimed via online qualifiers this March to further expand the reach of the tournament.
Registered and qualified players will travel to Bucharest to compete in the group phase of the Spring Tavern Tales. The eight emerging contenders will then go on to face eight of the world's best players, who will receive a direct invitation to the single-elimination second phase of the tournament.
The $10,000 USD prize pool and 115 World Championship points will be divided as follows:
1st place: $4,000 USD + 50 Points
2nd place: $2,000 USD + 25 Points
3rd & 4th place: $1,000 USD each + 10 points
5– 8th place: $500 USD each + 5 points
The PGL Spring Tavern Tales 2015 will also use the Conquest match format from start to finish, allowing players to develop new strategies, new decks, and keep things interesting throughout the event.
Keep an eye on www.dreamhack.ro for more information on the eight invited pro players, the shoutcasting team, a complete tournament schedule and the qualifier format.