The EU qualifiers continue today with two games in the loser bracket being played, teams like Meepwn'd, NiP and HR will be battling it out in a best of three to determine whether they qualify for the $100,000 prize pool tournament.
The two games that will be featured today are Hellraisers vs PoweRangers and NiP vs Meepwn'd. The favorites of the matchup are Hellraisers and NiP respectively; coincidentally they were the two teams that were knocked from the winner bracket to the loser bracket yesterday.
Hellraisers are considered favorites due to their stellar form so far in the year of 2015, taking games off strong teams such as Asus.Polar in this tournament and even managing to draw with Team Secret in the DotaPit League Season 3.
As for NiP, they have also been putting up a solid performance recently, in addition, the motivation for this team of friends will probably be much higher than the under performing all-star team, Meepwn'd; plus NiP's last game against Meepwn'd in January resulted in a 2-0 stomp in NiP's favor.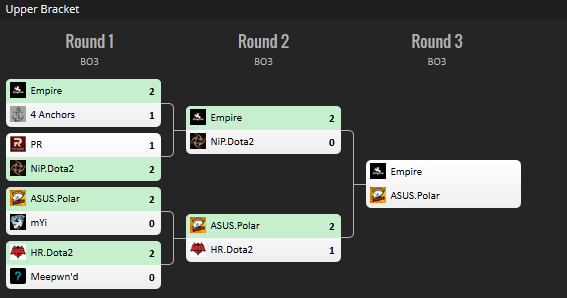 The only two teams left in the winner bracket are Asus.Polar and Empire, both teams got through the brackets with relative ease and will face each other tomorrow; a match that will very possibly go to a very close third game.
As for the already eliminated teams, none of them come as a big surprise as all of them have not been putting up a strong performance recently.
Source: gosugamers