It was second time lucky for ASUS.Polar after an intense final saw them become the fourth qualifier for the LAN finals with a narrow 3-2 victory over Power Rangers. They join Hellraisers, Team Empire and mYinsanity with the final four qualifiers due to take place over the coming months.
The second Esportal Invitational Qualifier has come to an end with ASUS.Polar narrowly claiming a game five victory over a determined Power Rangers. ASUS.Polar were making their second appearance in an Esportal qualifier after their previous loss to Team Empire in December.
They came from behind twice as a inspired Power Rangers performance almost made it two losses out of two for Polar.
Power Rangers went into the finals still without a fifth member, but Russian player GeneRaL was certainly a worthy replacement for the Belarusian team.
It almost looked like Power Rangers were going to run away with the qualifier spot and €2500 off the pushing power of Akbar 'SoNNeikO' Butaev's Aghanim Scepter powered Chen. But ASUS.Polar fought back to secure a hard earned victory and forced Power Rangers to settle for the €1500 second prize.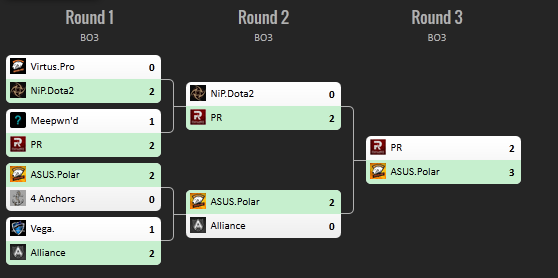 In the semi-final matches 75% favourites Ninjas in Pyjamas were blown away by Power Rangers in style, notably with the Belarusian team claiming a 15:16 minute victory in the opening game of the series.
A back and forth second game went in the favour of Power Rangers to set up an unlikely finals for a team plagued with roster issues.
ASUS.Polar had to repeat their success from the first Invitational Qualifier over Alliance as both teams were placed in the bottom half of the bracket for the second time. In the previous qualifier Polar, then with the Virtus Pro brand, were forced into a deciding third game to defeat Alliance to reach the final.
This time however, ASUS.Polar were able to claim a shut-out victory over the Swedish team. Both games entered the late game, but the second game was always in the favour of ASUS.Polar, with a hard fought defensive battle that was claimed by the CIS team by the 49th minute.
The four remaining qualifiers for Esportal include a final Invitational Qualifier and a final Open Qualifier, with the remaining spots going to winners at the two Ladder Qualifiers.
Source: gosugamers.net