The second Invitational qualifier started yesterday and only Ninjas in Pyjamas, Power Rangers, ASUS.Polar and Alliance remain. Entering the final two days of the qualifier, all four teams will be hoping to secure the fourth spot in the LAN finals and the €2500 prize money.
The first four matches in the Esportal Invitational Qualifier 2 have come to a close and the final four teams have been decided.
Ninjas in Pyjamas and ASUS.Polar secured their places in the semi-finals, as many expected, while the four-man roster of Power Rangers, who were a last minute addition to the qualifier after Team Tinker disbanded, were able to secure victory over Meepwn'd.
Meanwhile at the bottom of the bracket, Alliance were able to bring an end to Vega Squadron's winning streak to secure a rematch of the previous Invitational where they lost 2-1 to ASUS.Polar.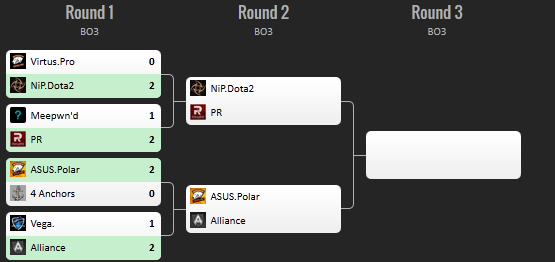 In the second day, ASUS.Polar secured a hard earned victory over 4 Anchors after an evenly matched game where the Russian's only took a significant lead at the hour mark.
The second game was an easier battle for Polar, this time with Ilya 'Illidan' Pevcaev as the mid-lane Medusa and, after some early game hiccups, ASUS.Polar eliminated 4 Anchors after turning on the dominance after 25 minutes.
The first semi-final between Ninjas in Pyjamas and late replacements Power Rangers is set to take place tomorrow at 17:30 CET, while tournament favourites ASUS.Polar take on Alliance later at 21:00 CET.
Source: gosugamers.net