ASUS.Polar will have a second chance at qualifying for Esportal after falling short against Team Empire in the previous Invitational. They are joined by seven other teams including Ninjas in Pyjamas, Team Tinker, Alliance and Virtus Pro as they all compete for a prizepool of €5000 and a place in the LAN finals.
It's time for the fourth qualifier out of eight for the Sweden based LAN finals and the second Invitational. Eight teams are hoping to secure their spot to join Hellraisers, Team Empire and mYinsanity at the LAN finals scheduled for next month. Rejoining the invitational qualifier from the previous incarnation are Alliance, Virtus Pro ad ASUS.Polar.
Alliance were able to move into the semi-final in the previous Invitational, only to be beaten by ASUS.Polar in a close match.
On the other side of the bracket, Virtus Pro failed to get past the first round after being soundly beaten by eventual qualifiers mYinsanity. Joining them this time are Ninjas in Pyjamas, Meepwn'd, 4 Anchors, Vega Squadron and Team Tinker. Team Tinker were invited to the previous invitational, but pulled out shortly before the event started.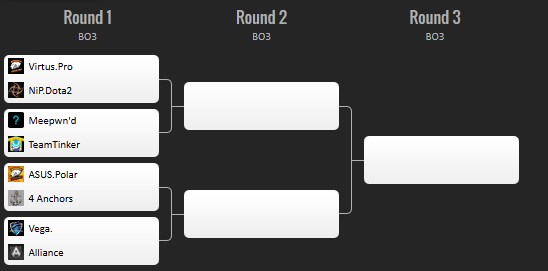 The qualifier is due to begin on the 15th of February, beginning with Virtus Pro and Ninjas in Pyjamas elimination match. The qualifier will continue over the following days and conclude on February 18th.
This qualifier will mark the end of the first half of qualifiers for the Stockholm based event, with four more qualifiers to come including one more Invitational. With the LAN finals scheduled to take place next month, it seems it could be a bit of a squeeze to fit them all in.
Source: gosugamers.net