Day 1 of the 2014 Steam Holday Sale kicks off today featuring a variety of games on sale. Here, you will find everything you need to know to get the best deals possible.
'Tis the season for sales; video game sales that is. Day 1 of this winter's most anticipated gaming sale features eight daily deals and six flash deals (which lasts for 12 hours). A list of games on sale can be found below:
Daily Deals:
Total War™: ROME II - Emperor Edition -75% off
Sid Meier's Civilization®: Beyond Earth™ -40% off
DARK SOULS™ II -63% off
METAL GEAR SOLID V: GROUND ZEROES -33% off
Space Engineers -50% off
State of Decay -75% off
Sniper Elite 3 -50% off
Euro Truck Simulator 2 -85% off
Flash Sales: (Lasts for 12 hours)
Damned -75% off
Hegemony Rome: The Rise of Caesar -85% off
Injustice: Gods Among Us Ultimate Edition -75% off
Microsoft Flight Simulator X: Steam Edition -80% off
SpeedRunners -75% off
Styx: Master of Shadows -50% off
*as of 12/18/14
In addition, gamers will be able to vote on which games they want to see on discount every 12 hours. The game that gets the most number of votes will receive a 66% discount, and voters will also get a Holiday Sale 2014 trading card that can be used to craft a special badge.
This year's sale will continue on until January 2nd, so there will be plenty more games on sale after today. Stay tuned for more information regarding Gaben's weeks of generosity.
Guide on how to survive Steam sales: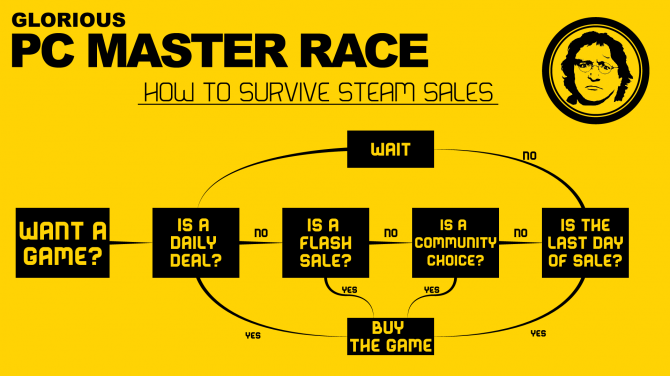 Source: gosugamers.net