Just a couple of hours ago, Bruno Carlucci tweeted that the Asian contestants for the upcoming DreamLeague Playoffs,
LGD and
invictusGaming, got their visas denied and won't be able to participate. In the meantime, DreamLeague looks for possible replacements.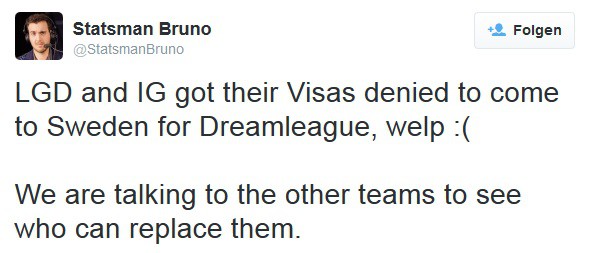 This years DreamLeague seems to be plagued by all sorts of hiccups, be it the drama around the groupstages and, as a result, the GD-Studio taking over, or even the drama around Robert Ohlen with DreamHack, the mother company.

Now it seems that more troubles are to come, as both
LGD and
iG got their visas to Sweden denied, after not submitting required documents to the visa administration:
The required documents for a Schengen visa with purpose to visit Sweden for two competitive events were submitted. However, the information is not in original and some required documents are missing.
[...]
Your intention to leave the territory of the Member States before the expiry of the visa could not be ascertained.
Sweden's Visa Administration


As DreamLeague are looking into replacements, it seems that they are in talks with both
MVP.Phoenix, the fourth placed team in the group, who would travel to Sweden directly after the IeSF, and
Rave, who placed third in the group stages.
A decision will be most likely made over the course of the weekend, since the DreamLeague playoffs are rapidly approaching. The LAN finals will take place at DreamHack Winter from November 27-29.
Source: joindota.com