NiP are cruising through Group B of the MLG Pro League Season 1 European qualifiers, but Team Empire still stands in their path to MLG Arena in Columbus.

The Major League Gaming Pro League Season 1 online qualifiers are underway with two European groups competing for three slots at the LAN playoffs at MLG Arena in Columbus, Ohio on April 10th. The first place teams of both groups will automatically advance, while the second place teams will play each other in a deciding best of three to take the region's last seat at the LAN.
At stake is a part of this season's $75,000 base prize pool and, for the overall winner, a further invitation to the MLG World Championships later this year.
Of Europe's two qualifiers, it's Ninjas in Pyjamas reign over Group B that has been the most consistent. Still riding high off of a dominating lower bracket run at the Dota Pit Season 3 qualifiers and their victory at the Alienware Area 51 Dota 2 Cup, NiP has dropped only one out of their 10 games so far.
It would take a run of bad luck and even worse play for Adrian 'Era' Kryeziu and his squad to not make at least top two.
The second spot is still very much up for grabs, with Meepwn'd and GameOnline currently sharing it with a 4-4 record. Meepwn'd, in particular, are proving to be the group's wildcard, taking an unexpected game off Team Empire with WehSing 'SingSing' Yuen standing in at support.
Both Team Empire and Virtus.Pro still have several games to play and, as the most high-profile teams of the group, are likely to challenge those standings.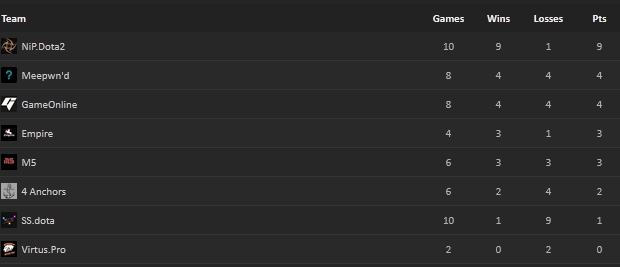 Group A's standings are much less set in stone with only one team through with at least half their matches. Balkan Bears and Hellraisers are so far undefeated, but Team Tinker is close behind. Further clouding the overall predictions is Team Tinker's lineup change, whose updated roster has yet to compete in the tournament. The only real takeaway from Group A?
The once unstoppable Alliance is crumbling, currently at a disappointing 2-6. In addition, Asus.Polar, who have found success recently at Esportal and Starladder, withdrew from the qualifiers, criticizing the tournament's small travel budget for teams heading to the LAN finals.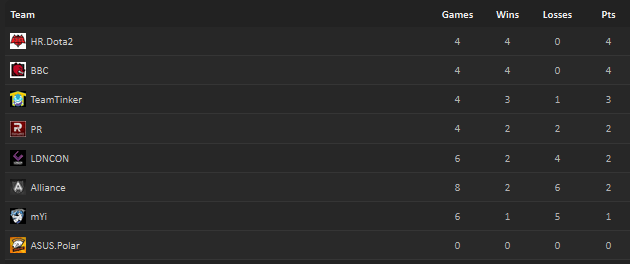 The next MLG Pro League Group A qualifier game will feature PR vs. Alliance on February 19th at 18:00 CEST. The Group B qualifier continues with Moscow 5 vs. Virtus.Pro shortly after at 20:00 CEST. All coverage will be provided by joinDOTA and MLG.TV.
Source: gosugamers.net