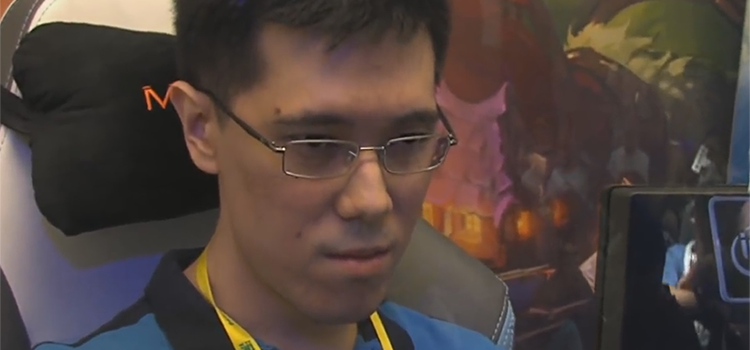 Less than a month ago, Filipino Hearthstone veteran Dustin "WaningMoon" Mangulabnan did what no other GosuCup players was ever able to do - win a second championship. That's why, if only to prove that he's that beast of a player, he casually went on to win a third one.
17 wins and 4 losses was the final score of WaningMoon as he nailed the GosuCup SEA hattrick and established himself as one of the top dogs in the region. And it's not like the bracket made it easy for him.
After a 2-0 win against Sayura, WaningMoon had to face another Filipino powerhouse in Chalk, one of the two SEA players who would've played in the BlizzCon NA qualifiers had they gotten their VISAs. Another 2-0 against his compatriot moved him forward to even more worthy opponents. In round 4, the GosuCup king played GosuCup #7 runner-up IgnisSolus and another strong Filipino player in the semi-finals, Wespogi. Scores of 2-0 and 3-0, respectively, qualified him for his third GosuCup grand final.
This became the only series in the tournament that gave WaningMoon a real hard time. Kaka from Malaysia took a two-game lead and put WaningMoon against the ropes, but the champion engineered a full comeback - he would not be denied his third GosuCup win.
WaningMoon's victory is nonetheless good news for Muhammad "Kaka" Isa as WaningMoon's grand final seed is transfered to him.
GosuCup #13 standings:
1.
WaningMoon - $100
2.
Kaka - 25 Dota 2 keys + a seed in the grand finals
3.
Wespogi - 10 Dota 2 keys + a seed in the grand finals
4.
Genji27 - 5 Dota 2 keys
5-8.
Aly33sida - 5 Dota 2 keys
5-8.
Tiemporave - 5 Dota 2 keys + a seed in the grand finals
5-8.
DaPh - 5 Dota 2 keys
5-8.
Choongy - 5 Dota 2 keys
Nation standings wise, the Philippines finally take a major, 13-point lead ahead of their Vietnamese rivals. They are also tied with them with the number of GosuCup SEA first places with both countries now at four. While WaningMoon has contributed to Philippines' rise the most, this week in particular he was supported by Wespogi and GosuCup #12 winner Genji, who placed third and fourth, respectively.
As for the other two grand final seeds, one will go to Wespogi for being the bronze medalist. The third will go to Tiemporave for being the highest ranked SEA player in the rankings, making him the winner of the 5-8th place tiebreaker between him, Aly33sida and Choongy (DaPh is already in the grand finals himself).
Nation standings after week 13
1.
Philippines - 68 points
2.
Vietnam - 55 points
3.
Singapore - 38 points
4.
Indonesia - 33 points
5.
Malaysia - 22 points
6.
Thailand - 18 points
Source: gosugamers.net